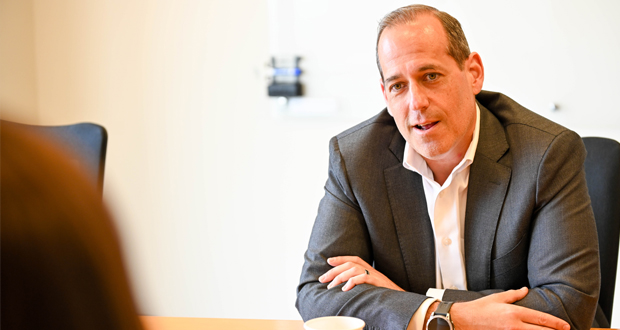 By Linda Hsieh, Editor & Publisher
This year, Valaris is celebrating its 100-year anniversary. It was in 1923 that Charles Rowan and his brother, Arch, purchased their first land rig to drill near Corsicana, Texas. Together, the brothers would form Rowan Drilling, which ultimately merged with Ensco in 2019 to form what is now Valaris.
Through M&As over the years, the two companies built a rich heritage encompassing a multitude of other drilling businesses, like Pride, Atwood, Dual Drilling, Penrod, Forasol Foramer, Marine Drilling, Skeie Drilling, and even non-drilling businesses like LeTourneau, an equipment manufacturer, and Era Aviation, a commercial airline company.
In recognition of this milestone, DC recently spoke with Anton Dibowitz, who joined Valaris as President and CEO in December 2021.
How do you think Valaris has evolved over the past century?
Like a lot of other offshore drillers, we started as a US-centric onshore drilling company. As technology evolved, we started drilling in shallow water in the Gulf of Mexico, before going deeper offshore and expanding internationally. Our operations now span six continents, and our fleet consists of 11 drillships, five semisubmersibles and 35 jackups, as well as two managed deepwater units. We've come a long way.
In that time, technology has obviously changed massively. Just in the 25 years since I joined the industry, there have been huge changes in the way we drill, the technologies we use to drill and the efficiency with which we drill.
In more recent years, one of the ways we've really evolved as a drilling contractor is the extent to which we partner with operators. We're no longer just taking instructions to drill the well – we're also bringing our expertise to the table much earlier in the process. There's now a huge amount of integration between us and the customer, which helps us to be more efficient and, in turn, helps our customers to be more efficient.
If you think about a dual-activity drillship, the efficiency comes from "feeding the beast," if you will. What I mean is, you can have highly sophisticated equipment on the rig, but the logistics need to be there, the people need to be there, the supply chain needs to be there, and third-party service companies need to be there. By getting into the process a lot earlier and acting as a problem solver for our customers, we've really achieved a step change in the efficiency of our drilling operations.
Is there anything that you feel hasn't changed during the past 100 years?
People have always been at the center of our business, and they continue to be. How our people interface with technology and equipment, as well as the safety systems that our people use, have evolved tremendously, but our fundamental focus on people has not changed.
For example, a few years ago we started our BOLD program, which stands for Building Organizational Leadership Development. It's about having open conversations about safety and being transparent on near-misses.
While the drilling business is a capital-intensive business, ultimately this is a service business. We deliver service to customers with capital-intensive assets, but at the end of the day, it's the people who make the difference.
How do you see Valaris evolving over the coming years?
First, there are still great opportunities for the use of technology. We've deployed the Valaris Intelligence Platform (VIP), which collects data on the rig and uses machine learning, positioning ourselves for more advanced AI solutions. By utilizing data that historically wasn't being used, the system is alerting us to potential issues, either with the wellbore or with rig equipment, which we can address early on before they become major problems.
We're continuing to progress our ability to assess data from multiple sources on a real-time basis. It's going to allow us to go beyond human capability to drive real-time decision making on the rig.
Another way in which we're using AI is for red zone management, by keeping people away from large, moving equipment and potential dropped objects. With this type of technology, ultimately, we won't need to have our people avoiding equipment; we will be able to make our equipment smart enough that they will avoid people. That's where we're headed.
We're also doing a lot of work with automation. On our DS-17 drillship, which is starting up operations for Equinor in Brazil's Bacalhau region, we just installed the ATOM RTX system from NOV. These are robotic arms on the drill floor that can perform a variety of tasks, such as transferring pipe stands to and from the well center, auto doping, etc. In our case, per the contract requirements, these are going to be used for automatic doping of the drill pipes.
The system has been used onshore, but this is the first application on a rig floor offshore. We're starting by using these arms for simpler tasks like pipe doping, but there is great potential for them to take on other activities, which will help us keep crews out of harm's way while also driving consistency in our operations.
How have those robotic arms been received by the rig crews?
I think they're quite happy about it. Look, there's always something else that a crew can do. If we can take a repetitive task off their hands so they have 5-10 extra minutes to plan the next job, that's a good thing.
We have to remember that technology is a facilitator for people. Like I said earlier, people are the heart of our operations. We want to use technology to help people do their jobs more efficiently and more safely.
What are some ways in which you see the energy transition changing either Valaris or the wider drilling industry in the coming years?
First, I want to make it clear that drilling contractors and drilling rigs will be needed for multiple decades to come, even under the most aggressive scenarios for the energy transition. It's overly simplistic to think you can just flip a switch to renewables. This needs to be a managed process, and we need to consider what would be the cost to the world of not having reliable and affordable energy.
Of course, drilling contractors will have to evolve as the energy transition continues. Maybe in the future we'll be drilling more gas wells instead of oil wells, more carbon capture, utilization and storage (CCUS) wells, or even offshore geothermal wells.
We'll also need to continue investing in our operations and equipment to lower our overall carbon footprint. At Valaris, we've set a goal to reduce our Scope 1 emissions intensity by 10-20% by 2030, compared with a 2019 baseline. I believe that is a credible target range that we can achieve with existing technologies.
For example, I mentioned that we've launched the VIP platform to optimize our rigs' power generation. Another example is the VALARIS DS-12 drillship, which was the first vessel in the world to receive the ABS Enhanced Electrical System Notation EHS-E back in 2021, recognizing the rig's upgraded electrical system to optimize its power plant performance. The result is fewer generators used and, therefore, reduced emissions.
So far we've seen a reduction in the order of 5-7%, which is a good start. We've also done the same upgrade on the DS-17 drillship that's starting up operations in Brazil.
We're also looking at upgrades that allow for the electrification of jackups and enable floaters to use biofuels. Both options hold great potential to reduce emissions. However, there are challenges around access and infrastructure. On top of that, there is also a cost component to doing these types of upgrades, which is something where we need the operator's support.
In today's market and with higher interest rates, the cost of capital is meaningfully higher. Reducing emissions intensity is very important to us, as well as to our customers, and we want to do our part in helping them to provide responsible energy to the world, but we have to be very disciplined about where we allocate our capital.
How do you see that difficulty in accessing capital impacting drilling contractors now and in the future?
I think it's clear that we'll need to manage this business differently than how it was managed before. Companies will have to be much more disciplined about managing their balance sheets, which means not speculatively building new rigs and not speculatively reactivating rigs. Overall, we have to be much more thoughtful about bringing assets to the market.
Generally across the industry, that's exactly what we're seeing so far. For our own part, Valaris has said that we won't reactivate a rig unless we can generate a meaningful return on the reactivation cost, and that's what we've done.
Can you talk about Valaris' joint venture with Saudi Aramco, ARO Drilling? What is your outlook for the drilling market in Saudi Arabia, and what is allowing such a large newbuild program there? ARO Drilling has stated that it's committed to building 20 new jackups over a 10-year period.
Saudi Aramco is the world's largest user of jackups in the world, and the Saudi market for high-spec jackups continues to be incredibly attractive.
Their newbuild program is focused as much on fostering local content in the Kingdom as it is on security of rig supply. The first two rigs of the ARO 20-rig program, which are expected to be delivered before year-end, are being built in the United Arab Emirates, but the next 18 are going to be built at the International Maritime Industries' yard in Ras Al Khair in the Kingdom. That's going to be the world's second-largest rig yard when it's completed and will contribute toward supporting local jobs and the building of local capabilities.
Each newbuild will also be built against 16 years of contract term – you just don't see that anywhere else in the world. Economically speaking, these rig projects not only make sense but are highly attractive.
It's definitely exciting for Valaris to be able to partake in the amazing growth story going on there. DC