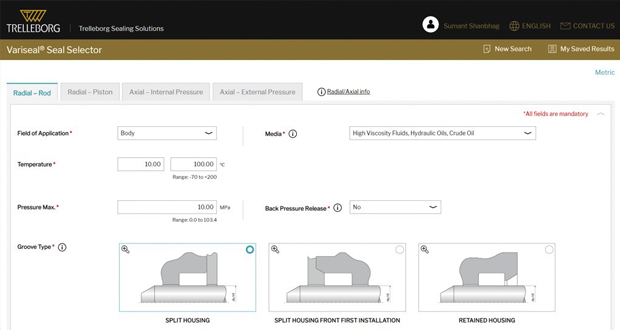 Trelleborg Sealing Solutions launched its interactive Variseal oil & gas seal selector, an online configuration tool to provide users with technical proposal specifications for high-performance sealing. Designed for use in oil, gas and energy applications, users can quickly and easily create a standard or custom seal proposal document for use in seal design.
According to the company, the tool provides a range of sealing options including radial rod, radial piston, axial internal pressure and axial external pressure. Users have a list of options to select from including application, media, temperature, pressure, groove and design type. A solution and hardware recommendation are provided based on the inputs, with the option to save the results, send the results via email or download the results as a PDF to share information with colleagues outside of the tool. Seal designs or dimensions can be adjusted without repeating the option selection yielding instantly revised results.
The tool is useful for a wide range of oil, gas and energy applications including gate, ball and check valves, connectors, and downhole tools.