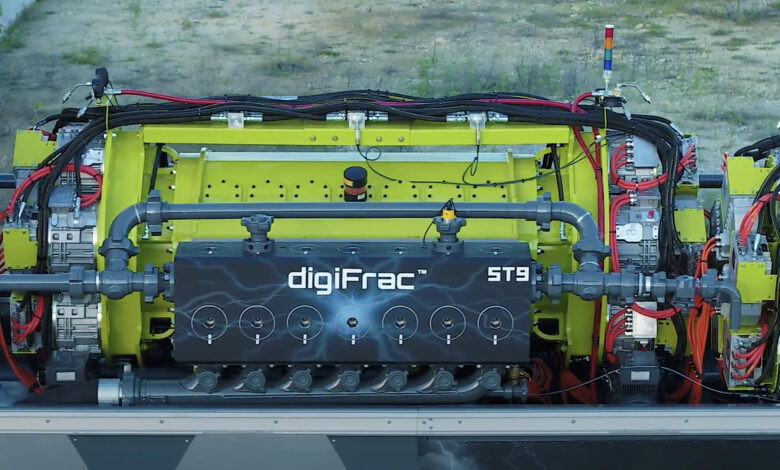 By Stephen Whitfield, Associate Editor
In US unconventionals, pressures to reduce well costs while maintaining or improving production remain high. In the frac sector, pressure pumpers and engine manufacturers realize that they must design more durable and higher-horsepower systems, even as the definition of "high horsepower" continues to change. Manufacturers of frac pumps and engines are now moving past 2,500 and 3,000 hp, and 5,000-hp pumps are becoming the norm.
These new systems allow for increases in power density – meaning that they can maintain the same level of power, or increase power as needed, within a smaller physical footprint. A high-horsepower system also allows operators and directional drillers to run frac operations for longer continuous periods, without maxing out on capacity and straining their equipment.
"Companies want the most reliable fleets in the industry. Even if they're looking to run a lower-horsepower operation, they still want the 5,000 horsepower because they know that thing is designed to run well above what they want," said Turner Hall, Engineering Manager – New Product Development at GD Energy Products. "It's all about extending the life of a system well beyond what a traditional 2,500- or 3,000-horsepower system can do."
Manufacturers are also touting that their high-horsepower systems can reduce fuel consumption, lower maintenance costs and enable longer continuous runtimes. Such benefits are key as operators stay focused on capital discipline.
"In the past, when the industry ran on higher margins, we weren't forced to be efficient. Customers weren't talking about running our engines at their most efficient point," said Scott Woodruff, VP of the Oil & Gas/Mining Business at Rolls-Royce Power Systems. "But especially since this last downturn, well services companies and drillers have become super focused on being efficient. We want to get the most work out of each stage fracked as we possibly can."
Designing the 5,000-hp pump
GD Energy Products entered the high-horsepower space in 2019 with its first 5,000-hp pump, the Thunder 5000 HP Quintuplex frac pump. It can cut the size of a frac spread by 30% compared with a 3,000-hp pump, according to the company. With fewer pumps, transmissions and engines to maintain, the system also reduces potential points of failure at the frac site, minimizing the need for maintenance.
"Your power density is greater when you run one 5,000-hp pump versus two 2,500-hp pumps," Mr Hall said. "Instead of needing 12 pumps on location, you only need six. That gets you efficiencies from a manpower and a safety standpoint. You have fewer pumps operating over a smaller area, so you've got less of a chance for issues to pop up."
A 5,000-hp pump can also generate higher flow rates at equivalent pressures to a lower-horsepower pump, helping companies boost production without increasing run time. Whereas running a 3,000-hp pump at 12,000 psi will get you approximately 9.2 bbl/min, Mr Hall explained, running a 5,000-hp pump at the same pressure will get you 15.3 bbl/min.
One of the bigger challenges in operating a 5,000-hp pump is the potential for increased stress on the pump's components. Mr Hall estimated that a typical 5,000-hp pump "essentially cuts in half" the life of its components when operating continuously at maximum capacity. With that in mind, GD Energy Products prioritized durability in the design of the Thunder 5000 to ensure it can have the same uptime as a lower-horsepower pump.
To reduce scuffing, friction and adhesive wear, the company developed a proprietary dry-film lubricant. The corrosion-resistant coating is harder and denser than the base steel used to build the frame of the pump, so it increases the load-bearing capacity of the bearings. The lubricant also helps prevent the pump from overheating when it operates at a higher horsepower.
"When you're going to a higher horsepower, it's not necessarily just the stress of the components that you have to deal with but also the speed at which that pump is turning," Mr Hall said. "At 5,000 horsepower, that pump is spinning faster than it traditionally has before, so you run the risk of a lot of heat generation. That has a big impact on pump performance. It was important for us to redesign our lubrication system so that we could pull that extra heat that's generated by the faster speeds out of the pump."
The pump also features an 11-in. stroke length – the distance traveled by each piston in an pump cycle – which is 3 in. longer than the typical stroke length for a frac pump.
The longer stroke length enables frac fleets to extend consumable life while delivering the same horsepower, pressures and flow rates but at slower speeds. While a shorter stroke length enables a pump to accelerate to full power faster, it also shortens the life of the pistons, increasing the need for maintenance.
Moreover, the new pump provides 37% more flow rate capacity than a typical 8-in. stroke pump, which keeps both the pump's velocity and pump speed lower. This, in turn, slows the accumulation of fatigue and consumable cycles, extending the life of the pump and consumable components while outputting more volume per revolution, according to GD Energy Products. "Essentially, this gets back to the total cost of ownership," Mr Hall said. "Where the savings really comes from is on the consumable in the fluid end. I'm getting 37% more work out of the 11-in. stroke than I am out of the 8-in. stroke."
During validation testing in 2019, the pump was subjected to a 2 million cycle endurance test at a 250,000-lb rod load for the entire test. After 450 hours of testing, the pump exhibited no cracks in the frame, no bearing failures and minimal damage to the crossheads and general bearings. The pump is now commercially deployed in several basins across North America.
Hybrid e-frac systems
Rolls-Royce Power Solutions, through its MTU brand of power systems, launched its hybrid electric fracturing (e-frac) power solution in 2021. It integrates a natural gas reciprocating engine with a battery energy storage system. Compared with a conventional turbine e-frac setup, this hybrid system can tailor operational needs based on the load requirements of a specific operation, allowing power to be utilized more efficiently.
The system was also designed to be modular. Users can customize the system to generate as much, or as little, power as they need. Any combination of MTU's EnergyPack battery storage systems – which range in capacities from 70 kWh to 2,200 kWh – and natural gas generator set can be mixed and matched.
Last year, Rolls-Royce used simulation software to highlight the potential energy efficiencies possible with its hybrid e-frac setup versus a turbine e-frac setup. The company simulated a frac operation using a turbine setup with a baseline load of 18-20 Megawatts electric (MWe) and a peak demand of 20-21 MWe. It then simulated the same operation with a hybrid system using 10 2.5-MWe gas gensets and two 2-MWe battery energy storage systems.
The conventional e-frac setup with one gas turbine generator was only able to run between 50% and 65% load capacity during the simulated operation. On the other hand, the hybrid e-frac system was able to run at 80% capacity without needing to use all 10 gensets – eight gensets ran throughout the simulation while two served as backups.
One of the keys to this increase in load capacity was the company's proprietary microgrid controller, which is installed in the battery energy storage system. Microgrids are small-scale local power networks in which various energy sources and storage systems are managed automatically through a master controller. The MTU microgrid automates the coordination of energy storage and demand between the battery system and the generators in the hybrid e-frac system, turning them on and off as needed to optimize fuel efficiency and emissions.
"Getting the engine to its optimal range is pretty simple with the energy storage. We're able to move the engine up to a more efficient load management situation – when you're going from 50% to 80%, you're generating more work per gallon of fuel from that engine," Mr Woodruff said.
He called the microgrid/EnergyPack combination a "whole new technology platform" in the e-frac space. Beyond the batteries, an EnergyPack houses an electronic control unit, transformers and cooling equipment, making it a self-contained energy storage unit. By connecting its control system to the MTU microgrid, users can ensure a continuous and efficient distribution of power throughout a frac run.
"The automation feature helps us optimize fuel consumption, and that has other benefits when it comes to emissions and asset utilization," Mr Woodruff said. "We're creating a system where we have much more visibility to steer these efficiencies even further."
Electric frac pumps
Later this year, Liberty expects to commercially launch a new electric pump system featuring a multimotor design. The company says the digiFrac system will have twice as much horsepower per unit than conventional pressure-pumping technologies.
The system's power frame is flanked on either side by a pod housing five individual electric motors, each of which can generate up to 400 hp continuously or 550 hp at peak. This design eliminates the transmission, drive shaft and pinion found in conventional diesel frac systems and replaces it with a planetary gear system.
The planetary system utilizes a center gear – known as a sun gear – that serves as the driver of the system. Three exterior gears – referred to as planets – rotate around the sun gear. Because the planet gears are evenly distributed around the sun gear, the system provides higher torque compared with the standard transmission used in a diesel frac system.
Removing the transmission from digiFrac is an example of improving efficiency at the margins, said Ron Gusek, President of Liberty. Shifting gears under load using a standard transmission introduces stress at potential failure points in a conventional frac pump, increasing the need for maintenance and decreasing runtime. "If you've ever driven a car with a manual transmission, shifting gears can be a little clunky. Every time you have to shift gears, there's a little shock to the system, and that vibration can be hard on components," Mr Gusek said. "When we're changing gears on a frac pump, it's no different. With an electric pump, we have a smooth system where it's quite literally turning a dial to ramp up the speed of the pump."
With the 10 motors working in unison, each pump will produce up to 4,000 hp continuously, or 5,500 hp intermittently. This allows operators to remove up to 50% of their pumping trailers per application.
Combining this level of output with tight packaging, which is enabled by removing the transmission, provides substantial power density on the well pad. The result is high horsepower delivered within a small physical footprint.
"If you look at a traditional frac pump, you would see the radiator system at the front of the trailer, then a 12-cylinder diesel engine, then the transmission, and then the pump at the very back. That entire assembly is around 45 feet long," Mr Gusek explained. "If you look at digiFrac, all you have are a pump and the electric motors attached to the sides of that pump. The footprint for that 5,500-horsepower pump takes up a space of 8 by 13 feet." The footprint to deliver double the horsepower is effectively halved, he added.
Additionally, with 10 motors operating individually at a lower horsepower, the digiFrac system is better suited to maintain continuous high horsepower throughout a run, even in the event of an equipment failure.
"If you have one large motor running and something happens to that motor, you're out an entire piece of equipment," Mr Gusek said. "But if we have 10 small motors and something happens to one motor? No problem. We still have nine more motors. That's part of our whole design philosophy: What can we do to maximize our equipment hours as much as possible with as minimum an amount of maintenance as possible?"
To improve system durability, the power frame was designed with an internal geometry that improves its resistance to flex and wear. Instead of creating a bore that is full of straight lines, Liberty designed it with curves from top to bottom and front to back to make the flow laminar and reduce the chance of cavitation. Cavitation occurs when small, liquid-free bubbles form within the liquid in low-pressure areas. When the pressure increases, the bubbles collapse and generate shock waves that gradually wear out the pump.
The digiFrac system will utilize Rolls Royce's MTU 2.6-MWe gas generator sets as its primary power source, effectively creating a hybrid system. This will allow for emissions reductions – an estimated 25% in CO2 emissions compared with other off-grid power sources – due to the gensets' high thermal efficiency, which helps reduce fuel usage.
"Rolls-Royce has done a lot of work with us to understand how much fuel we were going to be consuming and how that would affect the performance of the engine," Mr Gusek said. "If we're going to deliver an electric frac fleet to a location for our customer, we have to be confident that we're going to dramatically reduce the emissions footprint over the best available technology. Gas turbines are great at delivering a huge amount of power into a small package, but the natural gas engine offers that opportunity of delivering an efficient footprint that is better than the best available."
Through a comprehensive testing program that included durability testing and four field trials completed in Q2-Q3 2021, the system registered approximately 1,500 hours of operation in the yard and on four pads – two in the Permian Basin and two in the Denver-Julesburg Basin. While Liberty has not released details from those field tests, it said results "affirmed confidence for commercial production."
In its Q3 2021 earnings call, Liberty had announced multi-year agreements to commercially deploy the digiFrac technology in 2022 with two of its field-trial partners. Then, in the most recent earnings call on 9 February, the company said it plans to start deploying digiFrac pump systems into its frac fleets in early Q2 this year. DC
Click here to watch a video interview with Scott Woodruff about Rolls-Royce Power Solutions' MTU e-frac.
Click here to watch a video interview with Turner Hall about GD Energy Products' Thunder 5000 HP pump.