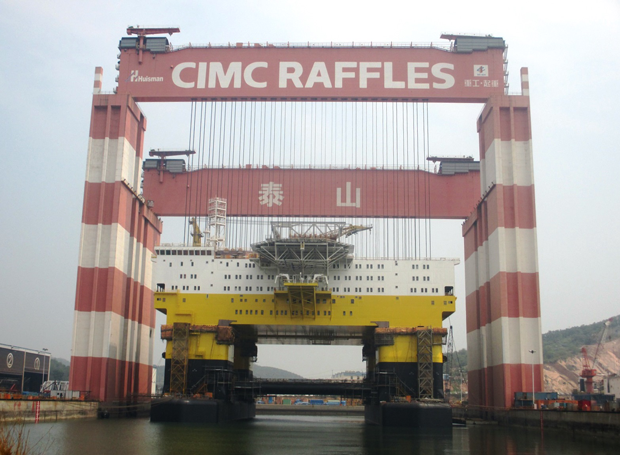 Yantai CIMC Raffles Offshore successfully completed the mating of the upper hull and topsides to the lower hull of the Frigstad Deepwater Rig Alfa, which is the first of two ultra-deepwater semisubmersible drilling rigs that were ordered by Frigstad Deepwater in December 2012.
The successful operation was marked at a ceremony in Yantai, in the presence of guests from China and abroad, including government officials, industry leaders and directors, management and workers from rig owner, yard and their subcontractors. At close to 18,000 metric tons, the lifting operation carried out by the Taisun crane is one of the heaviest lifts ever undertaken by a conventional crane.
The event is also another important milestone for the Frigstad Group. The rig is of the Frigstad D90 design, developed by Frigstad Engineering. The first rig of the Frigstad D90 design was delivered in 2011 and is operating offshore West Africa. The rigs under construction for Frigstad Deepwater are the result of further advancement of the rig design. Frigstad Offshore is managing the construction, supervision and marketing, as well as subsequent operation of the rigs. The rigs are scheduled for delivery in the second half of 2016 and the first half of 2017.
"It is a challenging market for offshore drilling rigs these days, and, therefore, we are particularly pleased to see that CIMC Raffles is taking pride in delivering top-quality workmanship," Simen Skaare Eriksen, CEO of Frigstad Offshore, said. "And more than ever, the oil companies are dependent on value-adding solutions to realize their large-scale drilling projects. We want to be an enabler for our customers, and with these rigs we believe that we have just the right tool for the job, bringing efficiency and versatility to a whole new level."
Frigstad D90 is a trademark of Frigstad Engineering.