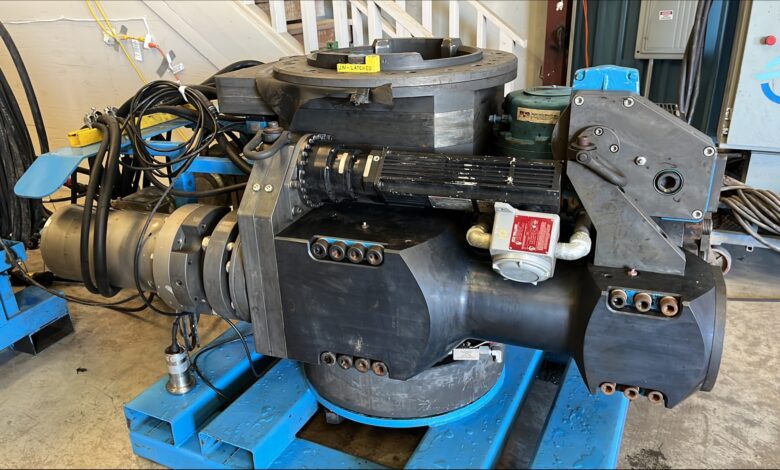 By Stephen Whitfield, Associate Editor
Automation in MPD operations is not new – operators and service companies have been utilizing technologies and software to automate various components of an MPD system for years. Recently, though, Opla Energy says it is bringing its ambitions for a fully automated MPD system that can run with no human intervention to reality with its Pressure Management Device (PMD).
The device, which is installed above the BOP, is designed to replace conventional MPD systems in both land and offshore rigs. It connects to the rig's control system and utilizes proprietary machine learning models to process rig data, such as flow rates, mud weights, pressures and rheology. After users input a desired downhole pressure, the device automatically adjusts the choke position, which is connected to a non-linear closed-loop controller installed with additional proprietary machine learning algorithms, to account for pressure changes due to pipe movement and flow rate changes.
The machine learning models installed in the device also train it to anticipate potential pressure changes in the future, helping to maintain a consistent downhole pressure throughout the drilling operation.
"When you look at a traditional MPD system, in order to calculate the hydraulics model needed to maintain a pressure profile, someone typically has to feed the survey results, the BHA, the mud properties and so on, back into the system on location. We've done away with that," said Elvin Mammadov, President of Opla Energy. "This device is really a bi-directional stream of data. It sees the downhole and surface data coming from the well in real time, and we can control and actually change the settings as needed."
Development of the PMD began in 2019, and Opla conducted field trials on a land rig from its parent company Citadel Drilling in September 2021 at the Wolfcamp D shale in the Midland Basin. During testing, the contractor was able to drill one well using the PMD in just eight days, compared with an average 16 days for other wells on the same field drilled with a conventional MPD system, according to Dan Hoffarth, Citadel CEO.
The device has also led to a reduction in NPT during rig-up. Rigs operating with the PMD have averaged around 2.5 hours of rig-up time, he added. By comparison, rigs operating with Opla's conventional MPD packages average 8-10 hours for rig-up. This is because the PMD is designed to use much less piping than a conventional MPD system, so the PMD can fit within a much smaller physical footprint – the company says it is around the size of a coffee table.
"As drilling contractors, we've have never had so much scrutiny over NPT in our history, so we really need systems that can come to a location and be rigged up in a simplistic manner," Mr Hoffarth said. "We're also eliminating a lot of risk, both from an operations perspective and a time savings perspective, by not having all that piping to build up."
After the device was commercially launched in September 2022, a Canadian operator completed the first fully remote, automated MPD tripping operation in December, using the device on a well in the Anadarko Basin in Oklahoma. Significant time savings were realized, according to Opla, because of the efficiency and speed of the machine learning algorithms; they replaced the MPD personnel typically working on location.
For the Anadarko operation, Opla reported reduced time in drill pipe connections – the rig running the PMD reduced the time for each connection by approximately three minutes compared with rigs using a conventional MPD system. This added up to time savings of approximately 5.5-6 hours for the well. The operator also saw significant improvement in bearing assembly change-out operations, reducing the time required from approximately 30 minutes per bearing assembly change on a well with a conventional MPD system to just five minutes, according to Opla.
Opla Energy contracts the PMD directly with operators, but it works with drilling contractors to install the device on rigs. The device is currently installed on 12 land rigs, including one rig owned by Citadel, in the Permian, Eagle Ford, Anadarko, Haynesville and Canada's Montney Shale.
For the future, Mr Mammadov said Opla is looking to make potential enhancements to the machine learning algorithms around, for example, ROP optimization. "We're exploring the causes of nonproductive time and seeing how else we can help the well to be drilled even faster. Maybe that means giving suggestions with a push notification sent into the field, or something else."
Further, while the PMD is already suitable for land and shallow-water drilling because the device's bearing assembly bowl was designed to replace the above-tension-ring rotating control device (RCD), it can also be modified for use in deepwater. In those applications, where the BOP and the RCD are installed underwater, the bearing assembly can be removed and replaced with a four-way port block that can be used in conjunction with a below-tension-ring RCD. DC