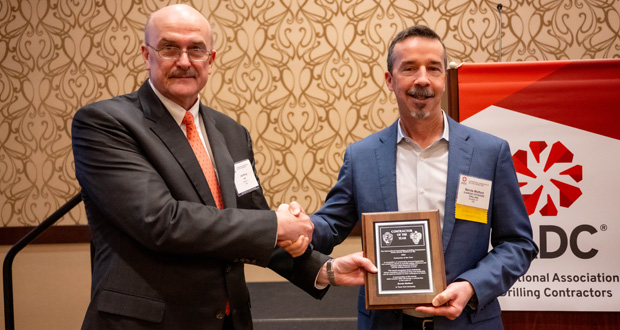 Bernie Wolford, President and CEO of Diamond Offshore Drilling, has been named 2023 IADC Contractor of the Year. The annual award was established in 1988 to recognize an individual drilling contractor's outstanding lifetime achievement in technical innovation, safety and economic efficiency within the drilling industry, and is the only industry award reserved solely for drilling contractors.
"I'm incredibly honored by the award," Mr Wolford said while accepting at the 2023 IADC Annual General Meeting in Austin, Texas on 10 November. "Forty years in the industry has its benefits; this is certainly one of them that I'm most humbled to accept. Over those years, I've been helped along the way by so many people."
A member of the IADC's Executive Committee, Mr Wolford was essentially born into the industry. Raised in Kilgore, East Texas, his father made a career out of working in the land drilling business. That very business took Mr Wolford to Salvador, Brazil as a child, and the first family home he remembered was a Delta Drilling Central Support Camp. He and his brother also hung around the Delta Drilling yard as children where their father worked as a mechanic.
After graduating in 1981 with a BS in Mechanical Engineering from Texas Tech University, Mr Wolford went to work for TransWorld Drilling as an Engineer, eventually serving as a Project Manager, Drilling Superintendent and Operations Manager at the company.
When TransWorld was acquired by Noble in 1991, he took on significant management positions within the company. In 1994, he served as its Area Manager in the Middle East before heading back to Brazil. Following some time away, he was promoted to VP of Operations Excellence in 2010. Two years later, he'd take on the role of Senior VP of Operations, a position he'd hold until November 2018.
That same month, he was named CEO of Pacific Drilling, where he remained until April 2021, shortly after Pacific and Noble announced their merger. One month later, Diamond Offshore named him its new President and CEO, the position he currently holds.
"There's no business quite like this one, and it's never been about the equipment," he said. "It's always been about the people. Early on, I was naive and I thought if I could just get the equipment to work, this business would work. That is the furthest thing from the truth. Success is always through people."