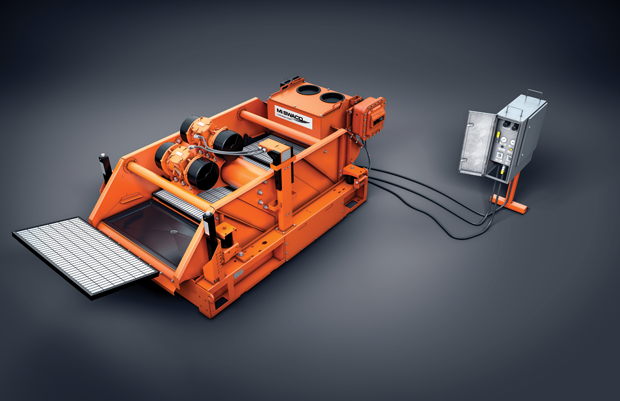 M-I SWACO has announced the release of the screen pulse fluid and cuttings separator. The fully pneumatic system, which can be installed onto new or existing shale shakers, delivers drilling fluid recovery of up to 30 bbl/day and an average drill cuttings waste reduction of 20%.
"Whether drilling on land, in shallow waters or in deepwater, our customers are always seeking ways to optimize the efficiency of their solids control process and thereby lower their total cost of drilling," said Guy Arrington, President of M-I SWACO, a Schlumberger company. "Combined with our shaker technology and lightweight composite screens, the new screen pulse separator maximizes drilling fluid recovery and generates drier cuttings. This reduces waste handling and disposal and overall drilling costs."
The screen pulse separator is a retrofitted, fully pneumatic system equipped to operate up to four shakers simultaneously. A carbon fiber pan fitted with an air valve mechanism that provides a pulsing air supply pulls drilling fluid from the cuttings surface as they travel towards the discharge end of the shaker.
The new separator was field-tested in the Middle East, South America and North America, including Oklahoma, Pennsylvania, Texas and Louisiana, proving a significant reduction in waste and increase in drilling fluid recovery in all basins.
In the Eagle Ford Shale in South Texas, a customer wanted to maintain optimal drilling conditions, including high rate of penetration, while minimizing costs associated with synthetic based mud (SBM) loss and the disposal of wet cuttings. The screen pulse separator was installed on mongoose pro shale shakers and used in combination with DURAFLO composite screens to enhance fluid handling capacity and solids control performance. Using this solution on two wells, the customer achieved the drilling objectives and reduced the SBM cost/ft by 30% and the disposal cost per well by 13.5%.