2018
July/August
Safety and ESG
Kenny Baker, Cactus Drilling: Safety starts with leadership demonstrating that they care about every individual on the rig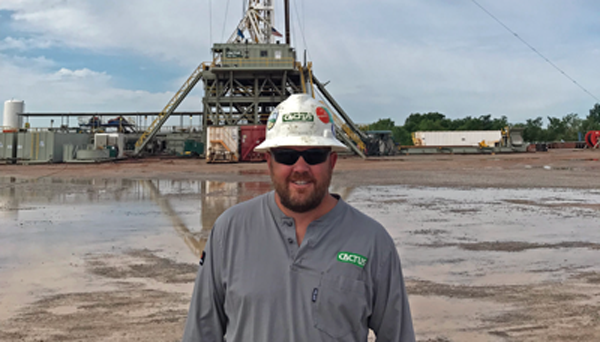 By Kelli Ainsworth Robinson, Associate Editor
Many people first set foot on a rig site after they land their first job in the drilling industry. However, Kenny Baker, a Drilling Superintendent with Cactus Drilling, has been visiting rig sites since he learned to walk as a toddler. "My dad was in the oilfield for as long as I can remember," he said. "We'd go out and check rigs with him when he was a drilling superintendent. We got to hang out with all of my dad's co-workers from the oilfield. There would be different things that crews would do together, like go float the river. We always kind of looked up to the roughnecks."
After graduating high school in Rush Springs, Okla., in 1994, Mr Baker joined the industry himself, initially working as a floorhand for Bonray Drilling. While he enjoyed this job, Mr Baker admits that he didn't initially experience the same kind of passion for the oilfield that he does now. "I probably didn't have a very good attitude and didn't apply myself the way I want my hands to apply themselves now."
His perspective started to change in the 1998 downturn, after he and many of his friends and family in the industry were laid off. He ended up spending two years working at a local wholesale distribution center, which "helped me to realize that the oilfield was a lot better of a job than I'd thought it was," Mr Baker said.
Two other major life events stoked his passion for the drilling industry. The first was the death of his father in October 1999 – it drove Mr Baker to set a personal goal of honoring his father by excelling in the oilfield. "It gave me the inspiration to follow in his footsteps," Mr Baker added.
The following year, he became a father himself when his daughter, Madison Brooke, was born. "I realized that I was going to have to do all I could to support her and give her everything I wanted to give her." The combination of these factors led Mr Baker's decision to rejoin the industry and work up to a drilling superintendent.
In 2000, he joined Cactus Drilling as a derrickhand and, within a year, he had already become a driller, on Cactus Rig 5, which was operating in Stephens County, Okla. In late 2002, he briefly left the company when his rig was among 20 units sold to Unit Drilling, but he was recruited back to Cactus three years later, this time as a driller on Cactus Rig 124. Within a few months, he was promoted to toolpusher.
"When I worked on Cactus 124, we were the first rig at Cactus to go two years without an accident at that time." He attributes this achievement at least partly to a leadership workshop held by Cactus and the rig's operator at the time, Dominion. The wellsite leadership and executives from both companies attended the workshop, where they jointly set goals, including working incident-free. The rig's crew was also skilled and dedicated, he added. "We had some really good people on that rig, and a lot of guys from that rig ended up moving up in the company when we were done with that job."
From there, Mr Baker moved into a toolpusher position on Rig 140, a B-Series Rocket Rig. Because of his experience on this rig, which was the first walking B-Series Rocket Rig in the contractor's fleet, Cactus later asked him to help staff and train crews for 10 new Rocket Rigs as they came out of the yard. Today, the contractor has 35 Rocket Rigs in its fleet.
In 2010, Mr Baker was promoted to drilling superintendent, fulfilling the goal he'd set for himself about a decade prior. The following year, one of the seven rigs he was overseeing – Cactus 117 in Oklahoma – was struck by an F5 tornado. While such a strong tornado could have caused multiple fatalities, the 12 men onsite at the time were able to seek shelter in the tornado-proof change house. There were no fatalities.
A major reason for this was that Cactus had already begun anchoring change houses in response to a 2008 tornado that killed a companyman. Although many people had been skeptical about the usefulness and efficacy of anchoring the change house to create a tornado shelter, what happened during the 2011 tornado sealed the deal for Mr Baker: He began advocating for greater use of the shelters – which have since become standard on Cactus' rig sites – and emergency preparedness plans. The latter includes stopping the job and sheltering in the change house when a tornado threat is present. Partly in recognition of these efforts, he received the IADC Chairman's Anniversary Award at the 2015 IADC Annual General Meeting.
Keeping people safe is the single most critical part of his job, Mr Baker said. One of the most important lessons he's learned about leadership, which he applies daily as a drilling superintendent, is that "you have to care about people and prove to your employees that you care about them," he said. When employees believe their leadership is behind them and cares about them personally – not just the work they do – they perform better and work more safely, he added. DC
Click here to watch a video interview with Kenny Baker from the 2018 IADC Drilling Onshore Conference.