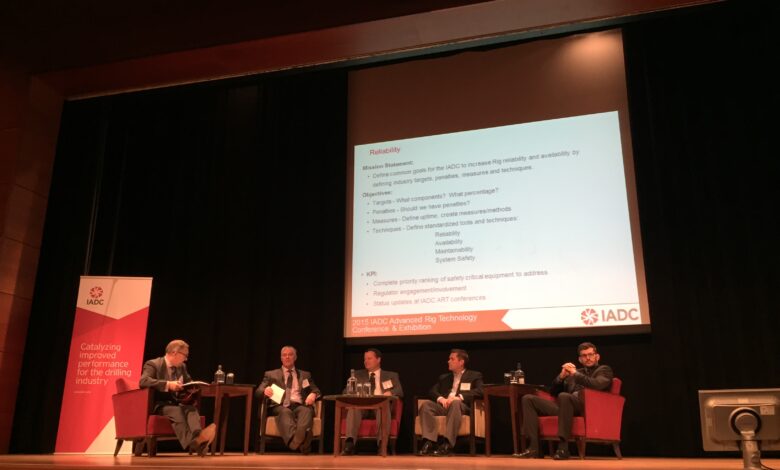 By Alex Endress, Editorial Coordinator
New technologies that have yet to be field proven often become a casualty of budget cuts during a downturn. But a down market may be the best time to implement new technology – especially automation-related technologies – according to a survey conducted at the 2015 IADC Advanced Rig Technology Conference, held 13-14 October in Amsterdam. During the event's Industry Response Panel, the audience was polled on whether they think downturns encourage automation. The largest portion of respondents – 40% – said they believe that a downturn does encourage implementation of automation. "There's a saying that 'you never waste a good crisis,' " Maersk Drilling Chief Technical Officer Frederik Smidth said.
Not only is automation a way for companies to differentiate themselves during a downturn, he said, "but it is also a way to deliver the best service." Mr Smidth further urged industry leaders to pave the way in adopting the new technology. "We have a cost base which is too high now, especially offshore. We're going to die as an industry if we maintain this cost level, so there will be a drive for efficiency to deliver cheaper wells. Ultimately, that takes leadership and encouragement."
The second-largest portion of respondents – 38.5% – answered that implementation of automation during a down market depends on customer requirements and support. Shell's Willy Oude Essink, GM Well Operations Innovation, said he believes that automation can improve safety and speed of operation, but only if properly deployed. "Machines make less errors than people. On the other hand, machines can do the work faster and safer, and the safety part is one that underpins success," he said. Mr Oude Essink also cited the ability to reduce rig headcount as a reason to pursue more automation. "If you can find a reliable machine to replace a guy, and if you can make sure that there are no gaps in the system that the rig has, why not go for it?"
A total of 17% responded that a down market discourages automation because companies can't afford the investment. "We all want to have more efficient rigs and we all want to have safer environments, but on the other hand, if there's no business coming in, there's very little funds to go around to be investing in new technology," MHWirth COO Andrew Bruce said.
Simon Drew, President of Land Drilling at KCA Deutag, said that the downturn definitely encourages companies to make operations more efficient, although that may not necessarily also boost support for automation. "I think the downturn forces changes in ways of working for fields or areas that cannot survive at the previous cost levels," he said. However, new technology can require significant amounts of investment from companies, and more automation may not always the best way to make operations more economically viable. "I'm not sure automation on its own solves those (cost) problems."