2023
Features
Safety and ESG
September/October
Digital solutions bolster well control training as drilling workforce evolves
Simulators, virtual and hybrid classes, and microlearning among ways training providers are adapting to students' changing needs
By Stephen Whitfield, Associate Editor
Well control training courses play a critical role in the development of skilled rig crews in the drilling industry. The ability of rig personnel to respond quickly and efficiently to well control events can save significant time, money and potentially lives.
The fundamentals of well control training have been the same for decades – recognizing the hydrostatic pressure of the fluid in the wellbore and the formation pressure, as well as the different lines of defense to prevent lost circulation and potential blowouts. However, well control training providers understand the need to adapt to the changing industry, incorporating more digital technologies into their classrooms and embracing the virtual e-learning courses that became prevalent during the COVID-19 pandemic. As operators and drillers continue to focus on digitalization, well control instructors are following suit.
"Our world is changing at an accelerated rate, and it's going to be necessary to ramp up our training capabilities if we're going to equip our students with the skills needed to succeed," said Ken Smith, VP of Well Control Training at Wild Well Control. "The evolution of technologies and the rapid demographic shifts are going to make this essential. In-person training is going to continue to be valuable as it reinforces core learning methodologies and provides opportunities for collaboration, but I think the future of training will reflect a digital design in both presentation and delivery."
The industry is also adapting to a new workforce of younger personnel with more diverse backgrounds. The people coming into the industry today grew up with technology in a way their predecessors did not, and they respond to different methods of teaching. Well control instructors are constantly looking for new ways to reach their students, whether it's through Zoom classes, specialized coursework or advanced simulators.
However, even as the nature of well control training changes, instructors know that the concepts of well control are still the same.
"We talk about automation, but if it all goes pear shaped, you still have a human being on a choke. It's about understanding the basic concepts. Once the concepts have been learned, we can adapt to technology," said Scotty Hooper, Head of Well Control Instruction and Development at Well Control School (WCS). "As the equipment evolves, the technology level of the people evolves, but what doesn't change is the basic understanding of the concepts behind what they're doing. Anybody can turn a valve, but why am I doing that? The way we might do the job does change, but the concept doesn't."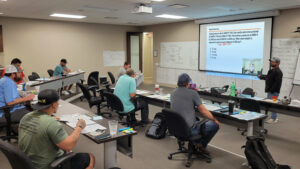 Training in the virtual age
WCS, an affiliate company of Cudd Well Control, has leapt headfirst into the digital ecosystem. In April, the company announced it was incorporating physical, portable and cloud-based simulators from Applied Research International (ARI) into its in-person and online training courses.
ARI's drilling simulator models pressure, temperature, rheology, drill cuttings transportation and filter cake formations. It also models drill string dynamics, including effects like drill string whirling, vibration, twist, stick-slip and bit bouncing. Instructors can configure the geographical profile of the well, including adjustments for rock hardness, rock porosity, rock permeability and formation pressure.
"With these new simulators, the student is actually learning something, not just operating software and watching a video. It goes along with our basic philosophy of enveloping the student in well control. That's what we do with our curriculum, and now it's coming through simulations," said Dana Varisco, President of WCS.
Mr Hooper described the simulators as a means to present well control lessons in a different manner than the conventional methods of having students read from a textbook or look at an instructor diagram on a whiteboard. Instead, the simulators provide an immersive training experience where students can make mistakes and learn from those mistakes.
"Putting concepts into practice is the key benefit of using simulators. You can sit in a training class and be taught concepts and theories, but a simulator enables you to actually put that theory into play and practice those concepts. You can think, well, what if I do this in this situation? And if that didn't work, you can find out why it didn't work," he said.
However, simulators are just one example of how a digital system can help instructors reach students in new ways. Another example is virtual training, said Toney Deer, Director of Training and a Senior Well Control Instructor at WCS. The company has offered online training options since 2001 through its System 21 e-learning courses but has seen a surging interest in virtual classes in recent years, with the pandemic forcing companies to embrace distance learning options.
Although the industry has returned to normal operations since, virtual training still serves a critical function as the workforce has become more accustomed to the remote work lifestyle. To accommodate this shift, WCS rolled out virtual training in 2020 that features live instruction presented to students over Zoom with an instructor, as well as training courses that allow for a mix of both in-person and remote students in the same class. In these classes, instructors bypass the traditional whiteboard and instead use PowerPoint presentations, where notes can be written directly onto the slides.
Mr Deer also stressed the importance of ongoing instructor training. Earlier this year, the company began hosting SME Fridays, a monthly virtual event where WCS instructors meet with a subject matter expert from an operator or drilling contractor company to learn about key issues they're facing in the field. The instructors can then incorporate those insights into their lessons. Mr Deer cited an example from a recent meeting where an SME stressed the importance of moving away from standardized lesson planning and moving toward basin-specific lessons: "If I'm going out to Texas to drill, why would I assume those formations are going to look like they do in Wyoming?"
The SME Friday talks have also spawned an internal podcast, "Onsite with TD," where Mr Deer speaks with SMEs about current issues surrounding well control. Ryan Hays, Director of Business Development at WCS and a Senior Well Control Instructor, cited the SME talks and podcast as examples of how WCS continues to adapt to a new way of working and meet students where they are.
"The industry has changed," Mr Hays said. "The old status quo was that you had one man preaching how it's going to be, and everybody had to do it that way. Now you have teams of diverse people working together daily sharing different points of view to make training better for everyone."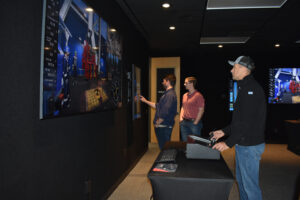 Improving the in-person experience
At Wild Well Control, adapting to new training challenges is a norm. During COVID, for example, in addition to their on-demand library of e-learning courses, the company began offering access to IADC WellSharp Live online training programs.
Another challenge since the pandemic is that the students undergoing well control training are now coming from much more diverse backgrounds, with fewer people coming from petroleum engineering and more people coming from computer science, data analytics and even non-STEM related fields. The latter type of students are sometimes less familiar with the equipment used to maintain well control, as well as how surface operations and pressures can affect issues downhole.
Recognizing that in-person training is particularly valuable for these types of students, Mr Smith said, the company has been working to bolster that classroom experience.
"Facilitation is a huge way to bring up the guys who have a lower level of understanding," he explained. "You can work with teams and pair the newer people up with the more experienced guys. The students do a lot more talking with the in-person classes. With the online classes, the instructors do a lot more talking. It's just the nature of the beast."
Improving the in-person experience also means adjusting the way students are taught, and Mr Smith pointed to adaptive learning as one key strategy. This involves, for instance, structuring homework assignments to fit the learning styles of each student – some students may receive assignments laden with visual aids, while others may have lessons more focused on written questions and answers. The company is also exploring microlearning, an educational strategy that breaks complex topics down into short-form, stand-alone units of study that can be viewed as many times as necessary at a student's convenience.
In line with this mindset, Wild Well Control has a heavy focus on continuous improvement of not only the training materials but also the curriculum delivered by its instructors. Internally, the instruction team continuously reviews and adapts the lessons to optimize the content and instructional delivery. This process is critical to keeping the material fresh and relevant, as well as to ensure accuracy of content.
"I think adapting our training to align preferred learning methods with current knowledge and skill levels is going to be a must. A lot of this can be done with our homework and our side learning tools. Microlearning is going to continue to be refined so it can accompany the in-learning experience with easy-to-digest, engaging homework, leading to a much better experience. I look at the younger generation and how they're digesting material vs the traditional ways, and clearly that is the future."
Simulators are also set to play a role in bolstering the in-person experience, primarily through Wild Well's partnership with Endeavor Technologies. The partnership, announced in February, calls for Endeavor to provide drilling simulators for well control training simulator rooms across Wild Well's seven training centers across the US. The simulator implementation is expected to be completed by year-end.
The appeal of Endeavor's simulators is in its computational fluid dynamics model, which consists of a circulation system that solves and analyzes problems involving fluid flows, Mr Smith said. There is also a proprietary hydraulics model that demonstrates the flow and pressure of the drilling fluid, which the simulator uses in a multi-layered approach to model the complex physical phenomena that occur inside the hydraulics system. These phenomena include the state, movement and interactions among the drilling fluid, gas, cuttings, formation, surface and underground equipment.
While most simulators are more drilling-focused, the fluid dynamics and hydraulics model provide a specific well control focus, Mr Smith said.
"A lot of companies out there make drilling simulators, but that doesn't help us a lot because we're focused on well control. There is some drilling on our simulators, but we're not teaching you how to drill through a formation. We're teaching how to control a well and control the gas in the well," he explained.
Another feature of the Endeavor simulators is their capability to simulate specific well intervention operations, such as installing packers and the upper completion, fishing and cement squeeze. Mr Smith also touted their ability to enable a more granular level of training by simulating, for example, the higher pressures and temperatures of the Haynesville Shale or the slower drilling seen in the Bakken.
Outside of the classroom or the virtual training session, students also will have access to simulation-based exercises they can undertake to bolster the well control concepts that they're taught by the instructors. "The education received ensures the principles are understood prior to running a simulator, but I compare the concept to running a motorcycle: You need a core of understanding prior to riding the bike," Mr Smith said. "The simulator is like riding the bike. You need to truly understand the principles so that, by the time you're using the simulator, you're focusing on muscle memory and developing a deeper understanding of the knowledge you're getting in class." DC
IADC WellSharp has restrictions on hybrid class formats and the use of cloud-based simulators in its accredited training. Please refer to the IADC Accreditation webpage for more information.