2023
Drilling Rigs & Automation
July/August
Safety and ESG
Chevron leverages smart alarms, multidisciplinary staff at support center to monitor process safety, develop fit-for-purpose solutions
Wells Decision Support Center, enabled by advances in real-time data and digital tools, can provide 'infinite' support for field personnel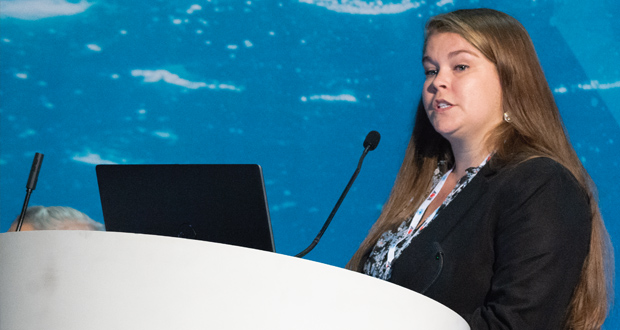 By Jessica Whiteside, Contributor
At Chevron, the primary responsibility for maintaining well control is placed on individuals at the rig site. But the company has a critical second line of defense: its Wells Decision Support Center (DSC) in Houston. The DSC uses advanced digital tools and pods of cross-functional teams to monitor and analyze real-time data from wells that may be thousands of miles away to help field personnel make better decisions affecting process safety and performance.
"Ultimately, with continuous improvement in our data quality and our digital tools, the support that the DSC can provide truly is infinite," Alexa Baker, Drill Site Manager for Chevron, said in a presentation at the Offshore Technology Conference in Houston on 1 May.
Chevron formed the DSC in 2011 to help prevent catastrophic safety events in deepwater and complex wells. In the years since, the growth of the company's unconventional business in shale and tight rock plays, combined with advancements in data and digital capabilities, has created opportunities for DSC support to be applied more broadly.
Today, the center's remit encompasses wells operations across all of Chevron's asset classes, and the DSC teams strive not only to help manage process safety but also to develop workflows and solutions that improve operational efficiency. The center also performs remote directional drilling and can drill multiple wells simultaneously.
DSC staff have diverse backgrounds encompassing wells operations, engineering, IT and geology and geophysics. Their co-location within the DSC, typically five or six individuals to a pod, has led to significantly more collaboration opportunities, Ms Baker said, and has resulted in reduced costs and improved safety by reducing headcount on the rigs.
The DSC pods are also organized by asset class, facilitating the sharing of applicable lessons learned, she added. Further, standardization of data – whether time or depth based – has aided collaboration by making it easier to pool data across business units.
Real-time monitoring
In unconventional operations, geosteering specialists provide 24/7 support, and engineers rely on smart alarms to monitor for process safety. For deepwater and complex wells, the DSC has real-time operators (RTOs) providing 24/7 monitoring of live data during all phases of operations. RTOs, who all have rig and mud logging experience, look for kick indicators and communicate with rig crews about any abnormalities. Their work is complemented by pore pressure specialists who flag changes that might indicate an upcoming well control event. Smart alarms are also available as an additional line of defense for well control.
To improve monitoring capabilities, the DSC developed a comprehensive system of process safety smart alarms to replace traditional high/low alarms that produced too many false positives. The smart system, which enables a single DSC professional to monitor kick indicators on multiple rigs at a time, can read real-time data and eliminate any explainable events, reducing false alarms and improving reliability, Ms Baker said.
"This is especially beneficial in our unconventional business units where rig counts are high and operations are not monitored by our real-time operators."
Improving performance
The DSC's performance pods, formed in 2019, combine engineering support with data, digital tools and modeling software to develop performance-enhancing workflows that target issues such as major nonproductive time. Ms Baker pointed to one example of a win for reduced cycle times in unconventional wells in the Permian Basin, when DSC analysis of longer lateral drilling found a direct correlation between friction factors while tripping out of the hole with a bottomhole assembly and the probability of getting casing to bottom.
"Now, our operations engineers are creating the models, watching our real-time friction factors and communicating with the rig sites when our wellbore is clean enough that we know we will get casing to bottom," Ms Baker said. "This is just one example of the type of fit-for-purpose engineering support that we can provide based on the challenges that we see in each business unit."
She cited another example of success in the deepwater space, where the DSC has been able to monitor high-temperature wells to determine which parameters are contributing the most to wellbore cooling efforts and create alarms around those parameters. This alerts operations engineers when those thresholds approach.
"Now they know what parameters they can effectively change to mitigate the temperatures," Ms Baker said. "At the end of the day, we're looking at each business unit and each asset class to develop solutions that fit those needs." DC
For more information, see SPE 32443, "Evolution of a Wells Decision Support Center as a Hub for Operational Excellence," presented at the 2023 OTC on 1 May.