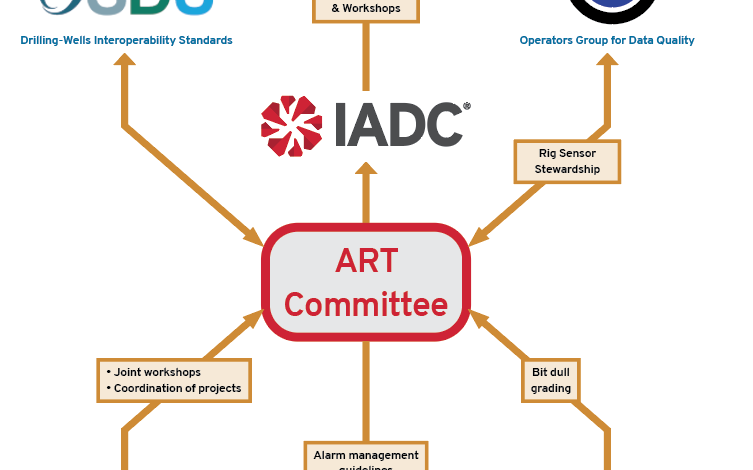 To help industry adapt to changing landscape, the committee will incorporate more ESG considerations while maintaining focus on advanced rig technologies
By Stephen Whitfield, Associate Editor
The IADC Advanced Rig Technology (ART) Committee has developed several guidelines and documents in recent years around data collection, cybersecurity and alarm management – all aimed at helping the industry to advance its automation, digitalization and safety journey.
Now, with the industry facing critical challenges on multiple fronts, the committee believes it's more important than ever to provide a platform for facilitating collaboration, sharing ideas and exploring new technologies that can help drive the industry forward.
On 8 March, the ART Committee and the SPE Drilling Systems Automation Technical Section jointly held a symposium in conjunction with the 2021 SPE/IADC International Drilling Conference. The event, which focused on the challenges in automating remote operations at scale in the current economic environment, is one of many virtual discussions the committee hopes to facilitate over the coming year.
Assaad Mohanna, Director of Business Strategy at NOV and new chairman of ART, said he sees creating opportunities like these as a key function of the committee. "ART is an empowerment house. It's a place that has become more of a resource for everyone in the industry, not just drilling contractors but lots of companies that have shown interest in participating," he said.
ART has several major project ongoing, including the soon-to-be-released Version 1.1 of the IADC Rig Sensor Stewardship Guidelines. Nearly 100 volunteers came together during 2019-2020 to collaborate on drafting the guidelines, and Version 1.0 was released for industry comment late last year. The document aims to provide a structure for addressing and defining proper sensor functioning and the accuracy of data measurements.
The first round of industry review, which ended on 28 February, provided "very valuable feedback," Mr Mohanna said.
The next step will be fine-tuning the document, with further input from drilling contractors, operators, and service and equipment companies, to make it more comprehensive.
Early this year, ART also launched a new project to revamp the IADC bit dull grading system. The current bit dull grading codes were created in 1987 and revised in 1992, and ART recognized the need for upgrades as the industry deploys more automation and digital technologies in the drilling operation. More than 200 people attended the virtual kickoff meeting in January, and several work groups have since been established to advance the project.
Robert van Kuilenburg, Mechanical Engineering Manager at Noble Corp and former ART Chairman, called the kickoff meeting "a truly collaborative effort." Volunteers represented more than 20 different organizations from around the world.
Looking to the coming year, ART will likely be increasing its focus on the ESG impacts of advanced rig technologies. Mr van Kuilenburg said increased public and investor scrutiny around carbon emissions is leading to discussions on the changing role of drilling contractors in the future energy mix.
While some of those discussions may be difficult, Mr van Kuilenburg said it will be important for ART to be involved.
He referenced a comment that was made by a major operator at the 2019 IADC ART Conference that the energy landscape and cooperation between operators and drillers will change dramatically in five years' time. "It's important to have open platforms where operators can say those things," he said. "It's not a message you want to hear, but it's a message you need to hear because it highlights the direction in which our clients expect the industry will head."
This increasing focus on ESG won't change the mission of ART, however, which will remain on drilling rigs, automation, and helping the industry to adapt to a changing landscape while maintaining their core businesses.
"Our industry is under pressure to adapt and to change into new environments," Mr Mohanna said. "I believe ART recognizes the challenge and works to provide the tools to grow and keep our commitment to the oil and gas industry. ART opens up access to and fosters expert collaboration around things like data quality, safety, automation and efficiency to improve the overall level of our industry. The focus will be on giving the players in this industry a platform to connect, discuss and improve."
Karma Slusarchuk, Senior Drilling Advisor at Parker Drilling and ART Vice Chair, said she sees the committee as being in a unique position to bring industry stakeholders together to explore new systems that can help companies reach ESG goals.
"When we talk about how ESG fits into ART, I think we take care of the 'E.' We focus on the fuels we use to generate power for the rig, the combustion engines and things like that," Ms Slusarchuk said. "ART is where I go to catch up with technology and find out about the options we have to become more environmentally efficient."
To this end, Mr Mohanna said ART will be looking to revive its Spark Tank events, which provide opportunities for small/emerging companies and entrepreneurs to pitch their new technologies and products to a panel of operators and drilling contractors, who then provide feedback. The events had been held regularly until the COVID-19 pandemic hit early last year.
"Spark Tank has been one of IADC's strengths," he said. "It's a place to showcase new technology from startups and smaller players," he said. "It was a great platform for people to come and pitch their ideas. We'll need to think about how we can revive that, whether it's through collaboration with SPE, finding a new pool of companies ourselves or maybe having a different format altogether. There is certainly something there in terms of creating a platform to connect supply to demand."
Mr Mohanna said there has not been a better time for the industry to come together and collaborate on creating a brighter future. He believes ART will be in a great position to help the industry shape its trajectory as it addresses its current challenges and moves into a new, uncertain future.
"After many years of a challenging market environment, we are learning how to survive differently," Mr Mohanna said. "I believe that as we come out of this crisis, we will have a much more robust industry that can deliver in a much better, cheaper and safer way. ART is here to support that in any way it can." DC
Click here to visit the IADC ART Committee web page.