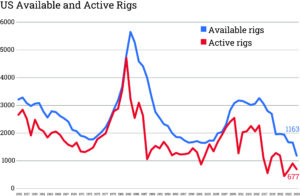 By Tarjei "TJ" Myklebust, Karl Appleton and Kevin Scherm, NOV
This year's census shows a fairly stable rig market globally. US rig counts plateaued and have declined to a steadier level while international rig counts have shown steady growth. Dayrates onshore have followed suit, while offshore shows a tight market with increasing dayrates; however, this is unlikely to result in a newbuild cycle.
Oil prices are also looking sustainable as traditional market forces, such as supply and demand, are once again steering prices. Healthy oil prices around $80/bbl have led to strong production numbers, particularly in the US, which is breaking records. Renewed interest from investors realizing the importance of energy security and availability is driving some funding back into oil and even more so into gas as a bridge fuel.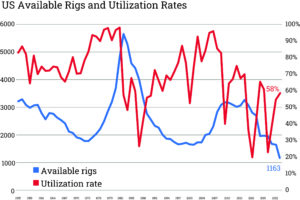 Concerns remain, however. While the battle against inflation and cost escalation is slowly being won, worries around the slowness of China's recovery and recessionary fears persist. These are balanced by growth in emerging markets and a robust US economy.
Census ground rules
Contractor-owned rigs belong to companies whose primary business is offering drilling contracting services.
The methodology used to count active rigs for the NOV census has been standard since 1955 and differs from other published rig counts. To be considered active, a rig must be drilling at least one day during the 45-day qualification period during the early summer each year between 6 May and 20 June.

While 118 rigs were added to the US fleet in 2023, 595 rigs were removed, resulting in a net decrease of 477 units.

Only workable rotary rigs are included. Cable tool rigs are excluded.

To be considered available, a rig must be able to go to work without requiring significant capital expenditure.
Rotary land rigs stacked for an extended period, typically three years or longer, are not counted as available. Offshore rigs may not be stacked for more than five years.
A rig must be capable of and normally employed for drilling deeper than 3,000 ft. Therefore, some shallow drilling rigs are excluded. This ensures that well-servicing rigs are not counted.
Electric rigs include all those that transmit power from prime movers to electrically driven equipment.

Pandemic effects showed up this year as rigs laid down three years ago remain inactive and are removed from the available fleet per census rules.

Inland barges include barge-mounted rigs that may be moved from one location to another via a canal, bayou or river and drill in sheltered inland waters.

Offshore rigs include stationary platform units (self-contained and tender-supported), bottom-supported mobile units and floating rigs (drillships and semisubmersibles).
Census highlights
Key statistics from the 2023 census include:
The US available fleet, including both land and offshore rigs, decreased by 477 to 1,163. This was mainly due to rigs being removed according to census rules for prolonged inactivity.

Utilization in Canada decreased to 48%, which is down even further compared with the low 51% from 2022. Despite that decrease, utilization is the second-highest it has been since 2011, albeit with a shrinking available fleet.

The active rig fleet in the US decreased by 24% compared with the previous census, bringing the total number of active rigs down to 677. Despite the reduction in active rigs, the utilization rate for the US fleet increased year-over-year from 54% to 58% due to a larger reduction in the available fleet.

The Canadian fleet utilization of land and offshore rigs decreased from 51% to 48%. This is still the second-highest utilization measured in the census since 2011.
The global offshore rig fleet had its first net increase since 2014 as the available fleet grew to 622 rigs. Utilization also continued to climb, reaching 79% in the 2023 census.
The global offshore rig fleet remains tight. National oil companies (NOCs) in the Middle East continue to drive demand for jackups, while the Golden Triangle – US Gulf of Mexico, South America (Brazil and Guyana) and West Africa – drives floater demand.

The global MODU utilization rate continued to increase, reaching 79% in the 2023 census. As opposed to recent years, this year's increase was driven by a rise in the number of active rigs rather than a decrease in fleet size.

Internationally, the active land rig count has risen in every region, with Libya and Ukraine returning to three-year highs.
US fleet
The US available rig fleet totaled 1,163, of which 96 were offshore and 1,067 were onshore. This is a decrease of 477 rigs compared with the previous year, setting a record low in the history of the census. While shocking, this is mainly due to a residual effect from the pandemic as rigs that were laid down in 2019-2020 have remained inactive for more than three years and, thus, are now excluded per census rules.
In contrast, production during this time has continued to rise, proving the industry can do more with less. In 2014, when the available fleet was over 3,000 rigs, US production was 8.8 million bpd, compared with a projected 12.8 million bpd for 2023.
US rig additions
A total of 118 new rigs were added to the US rig fleet since the previous census, which is considerably higher than the average 45 new rigs added per year over the past five years. Of the additions, 76 were reactivations of cold-stacked rigs previously removed per census rules, and five were rigs that moved into the country. Newbuilds account for the remaining 37, which is the highest number of newbuilds since 2017; 42 newbuilds entered the US fleet that year.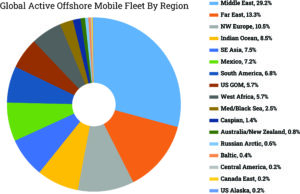 It should be noted, however, that a large portion of the newbuilds this year are rigs that were put together using parts from inactive rigs with upgrades, whereas the newbuilds in 2017 consisted mainly of rigs with newly manufactured equipment. It's also notable that, out of the 118 additions, seven were offshore rigs, including the two first-ever 20K-psi capable drillships. Both are working in the US Gulf of Mexico.
In the 2023 census, 595 rigs were removed from the available fleet. This is similar to the reduction seen in 2018 as rigs laid down in 2014 and 2015 hit their three-year inactive mark and were removed per census rules. This year, 72 rigs were scrapped, consisting of 65 land and seven old inland barge rigs. Additionally, two offshore rigs moved out of the country, which was offset by five rigs moving in.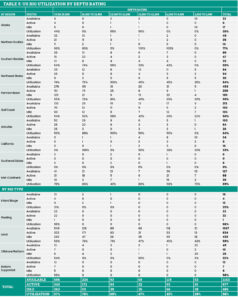 Canadian fleet
The total available Canadian rig fleet decreased again, this time by 3% to 347, furthering a new historical low. The offshore rig fleet dropped to five rigs: three platforms, one drillship and one drill barge. On land, no rigs were added while nine were removed according to census rules, netting 342 available land rigs.
Global offshore mobile fleet
The positive developments for global mobile offshore drilling units (MODUs) that started in 2022 have continued into 2023. For the first time since 2014, the available fleet saw net growth and reported 622 rigs, which is an increase of six rigs year-over-year. Fleet reductions sharply declined as the market tightened and rig owners became more reluctant to scrap their rigs.
Only 10 rigs were removed from the available fleet since the last census, compared with an average of 36 rigs removed per year over the past five years. Nine of the 10 rigs were scrapped, while one was ruled out due to census rules. The scrapped rigs consist of one drillship, two semis, two jackups and four tender rigs.
There were 16 additions to the fleet, 11 of which were newbuilds or stranded rigs being delivered. Those 11 new rigs consisted of two drillships that went to work in the US Gulf of Mexico and nine jackups, six of which went to work in the Middle East, two in China and one in Indonesia.
The largest MODU region remains the Middle East, with just over 29% of the global fleet. All rigs in this region are jackups. In fact, 40% of all jackups globally are now in the Middle East as NOCs – mainly Saudi Aramco and ADNOC – have expanded their jackup fleets significantly over the past two years.
As in previous years, the second- and third-largest regions are still the Far East, with approximately 13% of the fleet, and Northwest Europe, which has just over 10% of the fleet.
A shift has occurred for drillships, with South America now the largest region thanks to an increase in Brazil and Guyana. In the 2023 census, South America had almost 32% of the drillship fleet compared with just over 29% in the US Gulf of Mexico. West Africa, the third leg of the Golden Triangle, held 18% of the drillship fleet. Combined, these three regions host over 79% of global drillships.
Northwest Europe continued to be the leading region for semisubmersibles, with almost 40% of the global fleet. This is despite several semisubmersibles exiting the region lately. The Far East and South America round out the top three regions for semisubmersibles.
US drilling activity
Rig activity in the US decreased significantly this year to 677, down from 893 in the year prior. Offshore, the number of active rigs rose by just one unit, from 42 to 43, while activity on land dropped from 851 to 634, representing 45% and 59% utilization, respectively.
The Permian's active rig count dropped sharply from 370 to 268, representing 59% utilization for the region. While it remained the largest region, both in fleet and active rig count, its available fleet decreased from 656 to 458. During this census period, the highest utilization rate was seen in the Northern Rockies region, with a fleet of 49 rigs seeing 71% utilization.
This year, rigs capable of drilling 20,000 ft or more had the largest fleet size at 606 and saw 57% utilization. Rigs rated between 16,000 and 19,999 ft counted a fleet of 224 rigs and had the highest utilization rate of 76%. Rigs with the lowest drilling depth capacities between 3,000 and 5,999 ft had the lowest utilization, with just 28% from a fleet of 53 rigs.
The US offshore fleet saw relatively stable utilization, up from 43% to 45%. The jackup segment saw increased utilization (from 46% to 58%), but that is contrasted against a decreased fleet (12 available, down from 13). The only available semisubmersible in the region was active during the census. Lastly, drillships remained at 95% utilization but increased by one to 21 available rigs.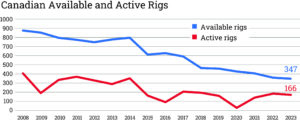 Canadian drilling activity
The Canadian fleet slightly decreased this year, with utilization down by only 3% to 48% and active rigs down by 18 to 166 rigs. This is still a high number of active rigs, representing 31 more than the past five-year average, and continues to be a healthy utilization rate during the census period, which often coincides with spring breakup.
Canada's active offshore rig count dropped by one to just three active rigs – one drillship and two platforms. This is a different mix than the three platforms and one semisubmersible from the last period.
International land rig utilization
International active land rig count, including estimates for Russia and China, is assessed to be 2,398 with an 81% utilization. This count increased in every international region, in contrast to the contraction of active rigs seen in North America.
Highlights include:
Ukrainian resilience saw the country's active rig fleet bounce back, surpassing the pre-war count.

Libya recovered with a growing rig count, while Zimbabwe and Uganda each saw their first rig for many years.
Argentina and Mexico grew while political cooling was seen in Colombia regarding oil and gas.

In the Middle East, Saudi Arabia, Iraq and Abu Dhabi all saw continued growth.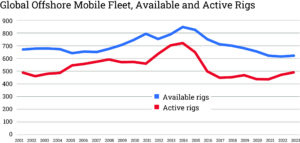 Global offshore mobile activity
The number of active MODUs during the 2023 census period was 490. This is the highest number since the 2016 census. The utilization rate was 79%, which is the highest since 2015, albeit with a much smaller available fleet now. The drillship segment is particularly tight, which is putting an upward pressure on dayrates. New contracts during the census period averaged around $450,000/day, a significant increase compared with recent years. The growth has come mainly from the Golden Triangle, including Guyana, and these regions will continue to drive demand.

The jackup segment has also seen positive development, although it has slowed a little compared with the massive contracting spree seen in 2022. The Middle East is still driving the growth, with NOCs such as Saudi Aramco and ADNOC, as well as ADES, putting rigs to work that had been initially contracted in late 2022. This has made jackup markets tighter globally and led to reactivation of both cold-stacked rigs and rigs that were previously stranded in the yards. The average dayrate for jackups during the census period was approximately $110,000.

The semisubmersible segment again lags the drillship and jackup segments on utilization, despite higher relative levels of scrapping. However, there are positive developments regarding utilization with a trend of rigs from the North Sea finding work in other regions, such as West Africa and Australia. Brazil has also increased activity and is likely to remain a driver of growth in this segment.
Offshore industry trends
After two years of growth, the markets for drillships and jackups are tight, with most of the favored rig designs already contracted. Drillship growth has been driven by the Golden Triangle. Going forward, it is likely that most of the incremental growth will come from Brazil and West Africa as the US Gulf of Mexico market is adequately supplied. Guyana will have some demand as new developments there are sanctioned.

Growth in the jackup segment will continue to be driven mostly by the Middle East, albeit at a slower pace than in the past two years. Further activity for harsh-environment jackups in Norway may come in the second half of 2024. Semisubmersible growth will be driven by Brazil, Australia and Norway in late 2024 and beyond. The trend of harsh-environment semis leaving the North Sea in favor of more lucrative contracts in Australia and West Africa could mean a supply shortage in the North Sea as demand returns in late 2024.
As dayrates improved, reactivations of cold-stacked rigs, as well as rigs delivered from yards, were needed to meet demand. Jackups dayrates averaged over $110,000, and a clean dayrate of $500,000 was awarded to a harsh-environment semisubmersible for work starting in mid-2024. Drillship dayrates will break $500,000 in the near future.
While utilization rates are closing in on levels that historically signaled newbuild orders, things are different now. Many shipyards that were stuck with stranded rigs after the last downturn have exited the rig-building business, and the ones that remain will not be offering the same financing terms as they did before. Obtaining financing may prove difficult as many investors are looking to place their money in greener industries.
Additionally, there is still some room to get access to rigs through mergers and acquisitions, as shown by the Noble/Maersk merger. In many cases, this type of merger can offer a more affordable avenue for rig access. Finally, there are still cold-stacked and stranded rigs available for reactivations. While the reactivation cost for a drillship is likely over $100 million and will take nine to 12 months, this is cheaper and faster than ordering a new rig. There are still roughly 40 stranded rigs in yards, consisting of 14 drillships, 19 jackups and seven semis. Although 37 of these rigs have scheduled delivery dates in 2023 or 2024, it's unlikely that all will be delivered as capital to further upgrade these vessels will be needed, given most of them were ordered in 2014 or earlier. Even so, this would still be significantly cheaper than ordering a new rig.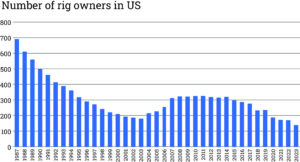 US industry trends
The change in the number of rig owners dropped from 171 to 138 this year, impacted primarily by M&As. Of the 1,163 rigs in the US available fleet, 72 rigs are operator owned, down from 77.
This year, market leveling was a trend as dayrates appeared to plateau and even turn slightly down in some areas, complemented by a slowdown of rig count reduction. Costs have stabilized, with inflation having peaked and predicted to slowly decline in the future. One thing that has not leveled, though, is production. Production has continued to rise and will hit all-time highs this year, topping 12.8 million bpd.
US forecast for next year
A subdued start to the year turned to slight optimism by mid-year as inflation controls seemed to work and pricing volatility subsided for oil markets, which is expected to continue. Action from OPEC+ throughout the year has been to support oil prices in a healthy but not extravagant range. In the US, the oil price has stayed rather stable around $80, and the US Energy Information Administration projects a stable, although slightly downward trend for the remaining time in 2023 and into 2024. Overall rig count and utilization is likely to stay relatively flat or trend slightly down in the near term and through early parts of 2024, with some regions up and others down.
Traditional market factors seem to be more at play as supply and demand of oil and gas look balanced in the short term. This could, of course, be undone by a cold winter leading to a hike in gas prices, or economic slowdown in China leading to reduced demand. The non-traditional market forces are now the more familiar categories of concern (war, recession, political unrest, human health, etc) and, as such, a period of stability in the near term is likely.
The growing need for energy remains unchanged, with US output expected to rise to record highs despite capital discipline and reduced rig activity. While demand for renewable energy is growing, the need for energy now and energy security remains greater. Many of the supermajors have recognized this and allocated investment in renewable markets. However, many have delayed some of their original plans and continued to invest in traditional oil and gas revenue streams as these are readily available, affordable and can be produced cleaner than ever before, especially with natural gas being far cleaner than other higher-carbon alternatives. DC
NOV's 70th Annual Rig Census was prepared by Tarjei "TJ" Myklebust, Senior Analyst; Karl Appleton, Business Development Director; and Kevin Scherm, Business Development.
IHS Markit is the primary source for the global offshore fleet while Enverus provided the source material for the US and Canadian onshore fleets. Information for the international land fleet was found using both Baker Hughes data and Spears information collected and analyzed by NOV personnel.