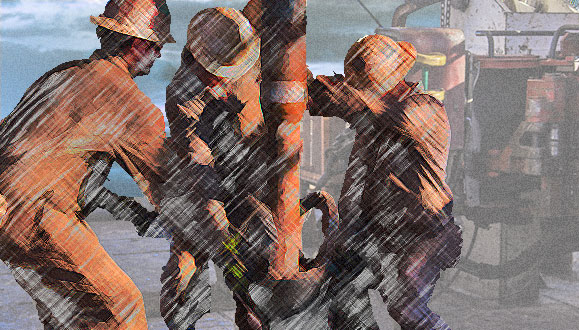 Aquadrill acquisition bumps Seadrill's floaters up to 12
Seadrill has completed its acquisition of Aquadrill, creating an offshore drilling contractor that owns 12 floaters. That includes seven 7th-generation drillships, three harsh-environment rigs, four benign jackups and three tender-assisted rigs. Additionally, seven rigs will be managed under strategic partnerships. The combined company has a backlog of $2.6 billion. As previously announced, Julie Robertson and Simon Johnson will continue in their respective roles as Chair of the Board of Directors, and President and Chief Executive Officer.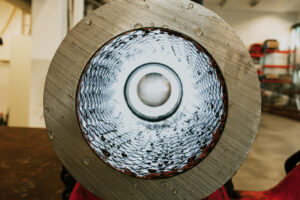 Equinor signs agreement to use DualLink powered, wired pipe
Reelwell has signed a five-year agreement with Equinor to provide DualLink powered and wired drill pipe, which will be installed on the Oseberg field. DualLink converts standard drill pipe into a wired network that provides high-speed digital telemetry and electrical power along the drill string. Electrical power from surface to downhole eliminates downhole power sources, reducing the cost and complexity of downhole tools and accelerating remote operations. Connecting downhole to electrical power from surface also enables next-gen downhole applications in drilling, completion, and plug and abandonment operations.
Halliburton announces deals for digital, cloud solutions
Halliburton recently announced several agreements with E&P companies for its digital and cloud solutions. Repsol has implemented the Halliburton Landmark DecisionSpace 365 Well Construction Suite as its preferred digital solution, and Hess has selected DecisionSpace 365 Well Construction applications to help reduce well costs and optimize its digital workflow.
Further, Petrobras will use the Landmark iEnergy digital platform to address its subsurface challenges. iEnergy powers DecisionSpace 365 cloud applications and is the E&P industry's first hybrid cloud designed to deploy, integrate and manage sophisticated cloud applications.
JX Nippon to buy Japan Drilling
Japanese oil and gas exploration firm JX Nippon has reached an agreement with Aspirant Group to acquire the entire issued shares of Japan Drilling Company (JDC). The company said that it will proceed with the procedures to obtain the required regulatory approvals with the aim of completing the acquisition of JDC around the end of April 2023. Upon completion of the acquisition, JDC will become a consolidated subsidiary of JX Nippon. JDC is the only Japanese company engaged in the offshore drilling business.
GDEP expands plunger remanufacturing capacity
GD Energy Products (GDEP) has improved the production capacity of its plunger remanufacturing program. The program recycles used frac plungers and returns them to like-new condition through a turnkey process. This service involves a proprietary plunger coating process, which provides the plungers with a hard, durable surface capable of enduring significant wear and tear.
WCS adds ESG training to well control classes
Well Control School (WCS) recently launched the ESG OpS Training Program, which enables students and companies to earn certificates in ESG compliance. The program makes ESG training and awareness part of well control training classes to ensure that, in addition to traditional well control topics, students understand ESG through risk management/risk assessment, how it fits into their everyday work, and how to make impactful decisions for their companies.
Three levels are offered: 1-hr ESG awareness, 4-hr ESG training and 8-hr ESG mastery.
SmartNAV integrates with auto-geosteering tool
Nabors' RigCLOUD announced the integration of the SmartNAV automated directional guidance system with ROGII's advanced auto-geosteering tool, StarSteer. This allows geosteering data to be pushed automatically to SmartNAV, helping to eliminate errors, missing data and the possibility for missing new geological targets that can result from manual workflows. Users can create more reliable changes and boost confidence in making target change decisions proactively.
Add Energy has set up a new office in Kuala Lumpur, Malaysia, headed up by Azman Johari Skymmar. He brings more than 25 years of industry knowledge and drilling experience from ExxonMobil in Malaysia, Indonesia and Equatorial Guinea. Last year Add Energy was acquired by ABL Group.
TWMA to deploy RotoMill on North Sea semisubmersible
TWMA has secured a seven-figure contract with a major operator to deploy its RotoMill technology on a harsh-environment semi in the Central North Sea. RotoMill allows drilling waste to be processed at source, eliminating the need to transport drilling waste long distances for treatment or disposal.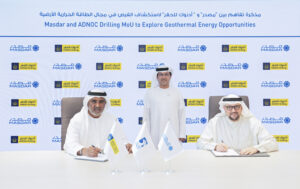 TAQA, ADNOC Drilling partnerships target geothermal energy
Two UAE-based energy companies, TAQA and ADNOC Drilling, recently announced partnerships aimed at exploring geothermal energy.
TAQA and Reykjavik Geothermal signed a joint venture agreement to establish TAQA Geothermal Energy, which will be headquartered in Riyadh, Saudi Arabia. TAQA Geothermal will explore and develop geothermal resources in Saudi Arabia and the MENA region.
Separately, ADNOC Drilling signed a five-year memorandum of understanding (MoU) with Masdar, a renewable energy company. Under the MOU, ADNOC Drilling will engage as a drilling technical expert and adviser to support Masdar's deployment of geothermal energy around the world. The companies will jointly evaluate the potential for ADNOC Drilling to provide geothermal drilling services.
Masdar entered the geothermal energy sector earlier this year with an investment in Indonesia's Pertamina Geothermal Energy, one of the world's largest geothermal players.
AI-based gamification added to blended learning solution
3t Transform has partnered with Trivie, a workforce learning software company, to bolster its blended learning offering. The partnership will help deliver gamified micro-learning, called Knowledge Coach, to help increase knowledge retention and overall learning impact. Companies will have the ability to demonstrate the real-time competency of employees, which can lead to significant safety risk mitigation. "What you have is a front end of quizzes, competition and leader boards, which utilize gamification and its benefits," said Grant Crow, Managing Director at 3t Transform. The back-end ecosystem of scientific algorithms produces granular information and insights on performance to understand an individual's knowledge levels.
---
PRODUCTS
SLB offers low-carbon alternative to well construction cement
SLB introduced the EcoShield geopolymer cement-free system that minimizes the CO2 footprint of a well's construction. The technology eliminates up to 85% of embodied CO2 emissions compared with conventional well cementing systems, which include portland cement. The system has the potential to avoid up to 5 million metric tons of CO2 emissions annually, which SLB says is the equivalent of removing 1.1 million cars from the road each year.
The cement-free system can be deployed throughout various phases of the well life cycle. It can also be deployed across a range of field applications, including corrosive environments.
In the Permian Basin, Pioneer Natural Resources recently deployed the technology on an 18-well field-testing campaign and continues with its use. Field trials validated the technology's ability to fit within standard cementing workflows without major changes to the design process, onsite execution or post-job evaluation.
Hardline Series designed to keep workers connected in hazardous environments
OtterBox recently launched its Hardline Series designed to keep workers connected while working in hazardous environments. The series includes a protective iPad case and device certified by UL Solutions for North America; a wireless charging station designed for the Hardline Series integrated cases; safety gloves for multi-finger tech-touch capability; and a hand strap and breakaway shoulder strap for mobile devices.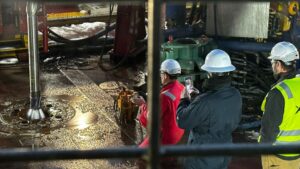 RSS alternative drills 100m in granite during field trials
Enteq Technologies announced its SABER tool, an alternative to rotary steerable systems, has drilled 100 m in granite – one of the hardest and highest vibration environments for drilling – during field trials. During testing, the engineering team was able to identify minor enhancements to the control system and to ensure that the tool is suitable for use in extreme conditions and applications like geothermal.
In the next stage of its testing program in the US, the tool will be trialed in a softer formation that will more closely mirror operational conditions expected in the mainstream commercial environment.
The SABER tool (Steer-At-Bit Enteq Rotary Tool) was developed by Enteq and is based on a concept created by Shell. SABER uses an internally directed pressure differential system across the bit face. By removing these external contact points, the tool reduces wear and improves reliability while also achieving true at-bit steering.