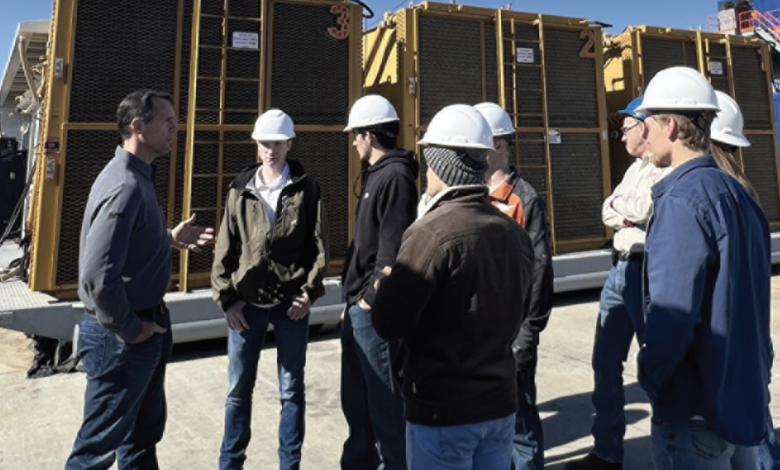 ART Committee names new Co-Chairs, recognizes service of previous Chairman
Blaine Dow, SLB Drilling Technology Manager, and Sarah Kern, Helmerich & Payne Senior Industry Affairs Specialist, have taken on the positions of Co-Chairs of the IADC Advanced Rig Technology (ART) Committee, succeeding the previous Chairman, Assaad Mohanna. Mr Dow has spent his entire career in drilling, with the past 17 years focused on technology development and deployment in directional drilling, MPD and drilling automation. He has written technical papers and served in volunteer positions with SPE and IADC committees. Ms Kern joined H&P upon graduating from Oklahoma State University with a degree in electrical engineering and marketing. Her various roles at H&P have spanned engineering, operations, communications, marketing, intelligence and industry affairs.
New officers elected to lead IADC UW student chapter
The IADC Student Chapter at the University of Wyoming (UW), which was established in 2019, recently elected new officers:
Josh Stone – President
Julian Dawkins – Vice President
Pierson Lauterbach – Secretary
Cody Zayonc – Treasurer
The chapter has been staying active, for example, by inviting alumnis to share their experiences with current petroleum engineering students. Other upcoming events include an IADC well control training course in March and a potential field trip/rig tour in Colorado with Ensign Energy Services in the spring.
IADC ISP releases Q4 2022 report, announces project to develop online portal
On 26 January, IADC released its Q4 2022 Incident Statistics Program (ISP) report, which provided a year-end summary of safety-related data from participating drilling contractors. As in previous years, the data is compiled separately for both onshore and offshore operations within nine geographic regions. Through the end of Q4 2022, ISP participants recorded a total of 329,745,043 manhours worked, tallying 1,103 recordable incidents, 311 lost-time incidents and 15 fatalities.
Also in January, a kickoff meeting of the IADC ISP Subcommittee, which operates under the HSET Committee, was held to initiate the first phase of a project to develop an online portal for entering and accessing ISP data. Once completed, participating companies will be able to more easily enter their data in the cloud, as well as get real-time comparisons of their data against wider industry data.
Click here to access the IADC Incident Statistics Program Q4 report.