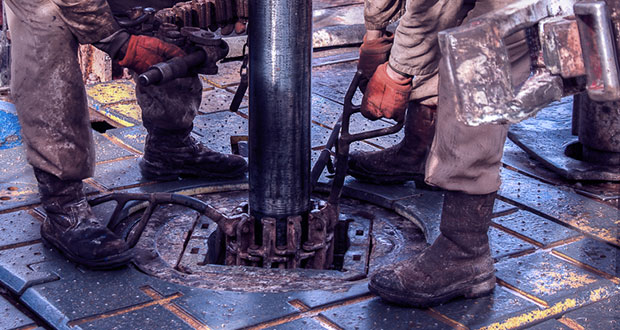 David Williams, Noble Corp Chairman, President and CEO, is 2015 IADC Contractor of the Year
David Williams, Chairman of the Board, President and CEO of Noble Corp, has been recognized as 2015 IADC Contractor of the Year. Accepting his award on 6 November at the 2015 IADC Annual General Meeting in San Antonio, Texas, Mr Williams thanked all the people he has worked with during his career, noting that he has learned something from everyone.
Mr Williams also thanked IADC and urged more people from the drilling industry to participate with the organization. "IADC has done a terrific job of providing a forum for drilling contractors. This is the only advocacy group for drilling contractors, those of us who own and operate drilling rigs, and IADC plays a critical role. We appreciate the work that you do very much, and we appreciate those of you who serve on committees and chapters. And if you're not involved, please get involved and stay involved because it is important work."
The IADC Contractor of the Year award was established in 1988 to recognize individual drilling contractors and their outstanding lifetime achievements in technical innovation, safety and economic efficiency within the drilling industry. Sponsored by National Oilwell Varco, the award is the only one in the industry reserved solely for drilling contractors. All recipients are nominated and selected by IADC drilling contractor members.
Mr Williams was named Chairman of the Board, President and Chief Executive Officer for Noble effective 2 January 2008. He served as Senior Vice President – Business Development of Noble Drilling Services from September 2006 to January 2007, as Senior Vice President – Operations of Noble Drilling Services from January to April 2007, and as Senior Vice President and Chief Operating Officer of Noble from April 2007 to 2 January 2008. Prior to September 2006, Mr Williams served for more than five years as Executive Vice President of Diamond Offshore Drilling.
IADC praises US House Energy Bill vote
On 3 December, the US House of Representatives voted on H.R. 8, the North American Energy Security and Infrastructure Act of 2015, which includes amendments adopted to lift the ban on crude oil exports and streamline the LNG permits approval process.
The energy package was passed by a vote of 249 to 174. The bipartisan amendments will bolster growth for domestically produced oil and natural gas, which will in turn facilitate job creation.
"IADC thanks the members of the US House for their vote in passing a comprehensive energy measure and urges both chambers to come together in sending an energy bill to the president that facilitates robust energy exploration and production which will bolster employment and provide much needed fuel for our economy," said Elizabeth Craddock, IADC Vice President, Policy and Government Affairs.
"The US needs energy legislation that will enable us to help our allies. The US energy renaissance is not only a game changer for US consumers and domestic manufacturing but also has geopolitical ramifications. We should not back away from the progress that has been made to ensure our country and allies are energy secure."
Kenny Baker, Cactus Drilling, recognized with 2015 IADC Chairman's Anniversary Award
Kenny Baker of Cactus Drilling was recognized as the recipient of the first IADC Chairman's Anniversary Award on 5 November during the IADC Annual General Meeting in San Antonio, Texas.
The award was developed to recognize individuals working in the field who have made a direct impact on improved performance for their company, either through a project or personal effort. The first award was given out during IADC's 75th anniversary in 2015, and it will be given every five years henceforth. IADC received more than 20 nominations for the award, from drilling contractors, operators and service companies around the world.
Mr Baker was recognized for his design and implementation of severe weather shelters on rig sites.
Ed Jacob, 2015 IADC Chairman, presented the award to Mr Baker. "In May 2011, a tornado destroyed Cactus Drilling Rig 117. In the aftermath, Kenny Baker, Drilling Superintendent with Cactus Drilling, designed and helped implement on-location shelters," Mr Jacob said. "In the years since, many lives have been saved, in no small part due to Kenny's passion and past efforts. You could very easily make the argument that on-location severe weather shelters have become the new standard during severe weather season for our industry."
Click here to view a video interview with Kenny Baker.
IADC Supply Chain Committee develops suite of supplier metrics
In an effort to develop a mutually beneficial relationship with suppliers, the IADC Supply Chain Committee has created a suite of standard supplier metrics and a scorecard template to align expectations and promote performance improvement throughout the entire procurement-to-pay process in the drilling industry.
The supplier metrics were evaluated both on the impact to the supply chain process, as well as measurability by both suppliers and drilling contractors.
Using the IADC Supply Chain Committee scorecard, drilling contractors will be able to input data collected from the metrics, helping to promote consistency in the measurement of key performance indicators by both drilling contractors and suppliers.
Any and all data collected from the metrics is confidential and will be shared only with each drilling contractor and its suppliers.
Click here to view the supplier metrics documents.
IADC Drilling Engineers Committee honors service of former chairman Ben Bloys