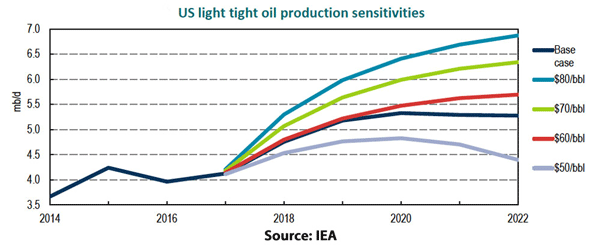 The US is leading the charge in increasing global oil production, but despite this massive contribution, world oil supplies might not meet demand after 2020 without approval of new projects "soon," warned a new International Energy Agency report. The IEA report, "Oil 2017," was unveiled at CERAWeek by IHS Market on 6 March in Houston.
IEA Executive Director Dr Fatih Birol cited two main takeaways from the study. "We are witnessing the start of a second wave of US shale oil," he said, cautioning, "We see significant risk of prices rising sharply starting with 2020, unless significant new projects are sanctioned."
While oil supply and demand over the next three years are "comfortable," IEA projects that supply growth will slow significantly afterward.
While oil supply will grow significantly in the US, Brazil and Canada, and at lower levels in other countries, this growth could "stall" by 2020 if the record low investments of 2015 and 2016 continue.
Conversely, demand will rise over the next five years, passing the 100 million bbl/day threshold in 2019, and rising to 104 million bbl/day by 2020. China and India are driving roughly half of this demand growth. India is now overtaking China as the center of oil demand cost, Mr Birol said.
IEA expects US light, tight oil (LTO) production to grow by 1.4 million bbl/day by 2022, if prices remain around USD 60/bbl. "Impressive" productivity gains account for the higher expectations for US LTO, Mr Birol observed.