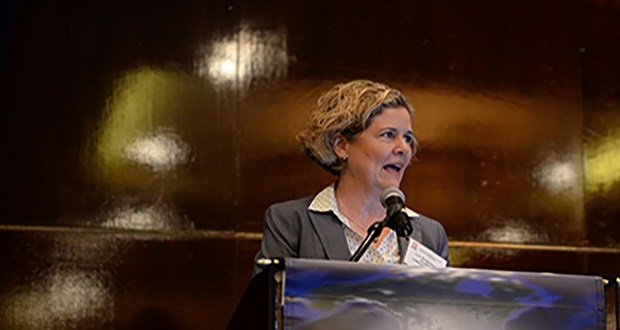 By Kelli Ainsworth, Editorial Coordinator
The Texas Railroad Commission continues to collaborate with IADC to provide clarifications and guidance on amendments to Statewide Rule 13, which took effect 1 January 2014 and applies to wells spudded on or after that date. In a presentation at the 2015 IADC Drilling Onshore Conference and Exhibition, Lori Wrotenbery, Director of the Oil and Gas Division of the Railroad Commission, said the agency is still reviewing IADC's concerns around Rule 13 and determining the best course of action. "I don't know at this point whether it's going to require reopening the rule or whether we can address the issues through some clarification and guidance," she said. "That's something we're exploring right now."
The objective of Rule 13 is to ensure the protection of freshwater and that well control is maintained, Ms Wrotenbery explained. Amendments to the rule address everything from drilling fluid programs to hydraulic fracturing. IADC, in particular, had raised concerns with the Railroad Commission regarding subsections of Rule 13 requiring well control equipment to comply with API Standard 53. The API Standard was drafted with offshore equipment in mind but can have significant unintended consequences for the onshore drilling industry. In fact, it could be the difference between a contractor having to scrap a rig or not.
Ms Wrotenbery indicated that the Railroad Commission is still considering the concerns raised by IADC. "We are aware that there's some perfectly good equipment out there that may not meet the new standard and that may basically be rendered obsolete if we're not careful about how we approach the implementation of that particular document," she said.
IADC onshore leadership have been engaged in discussions with the Railroad Commission around these provisions since last year. The goal is to ensure Rule 13 and future regulations are fit-for-purpose, clearly understandable and consistently applied. Patterson-UTI's Mike Garvin, who serves as VP of IADC's Onshore Division and was moderating Ms Wrotenbery's session at the conference, took the opportunity to express IADC's appreciation for the Railroad Commission's willingness to work with the industry. "They've really got the same objective we've got," Mr Garvin said. "They want to pass reasonable laws that will help us get better than we are."
By being able to forge a collaborative relationship between IADC and the Railroad Commission, the industry will be able to provide input not only on Rule 13 but also on possible future regulations that affect the drilling industry. "There are a number of provisions of (Rule 13) that we could have used IADC's input and advice on, and we're going to work together in the future to make sure we get that input and advice upfront," Ms Wrotenbery said.
Mr Garvin echoed a similar commitment to future collaboration and indicated that IADC will seek proactively seek opportunities to work with the Railroad Commission. "When these types of rules are being reviewed and drafted, if there's a piece that affects us, we're going to get in there and get in on that drafting."