William Andrew "Andy" Hendricks, Chair – Patterson-UTI
Mr Hendricks has served as President and CEO of Patterson-UTI since October 2012 and as a director since June 2017. He previously served as the company's Chief Operating Officer from April 2012 through September 2012. From May 2010 through March 2012, he served as President of Schlumberger Drilling & Measurements. Prior to that, he had worked for Schlumberger in various worldwide locations and capacities since 1988, including serving in numerous executive positions since 2003. Mr Hendricks holds a Bachelor of Science in petroleum engineering from Texas A&M University.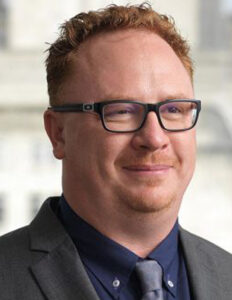 Leif Nelson, Vice Chair – Seadrill
Mr Nelson has served as Seadrill Management's Executive VP and Chief Operating and Technology Officer since June 2015. Prior to joining Seadrill, he held various operational positions around the globe for Transocean. Mr Nelson is a graduate of the Colorado School of Mines with a BSc in petroleum engineering.
Jeremy Thigpen, Past Chair – Transocean
Mr Thigpen joined Trans-ocean as the company's CEO in April 2015. He had previously spent 18 years at National Oilwell Varco (NOV), where he served as Senior Vice President and Chief Financial Officer. During his tenure at NOV, he spent five years as President of the Downhole and Pumping Solutions business and four years as President of the Downhole Tools group. He also served in various management and business development capacities. Mr Thigpen earned his Bachelor of Arts in Economics and Managerial Studies from Rice University and completed the Program for Management Development at Harvard Business School.
Scott McReaken, Secretary/Treasurer – Northern Ocean
Mr McReaken was named as CEO of the Northern Drilling and Northern Ocean Groups in Decem-ber 2018. He has been a part of the Seadrill group companies since 2012, where he previously served as CEO and Director of Sevan Drilling and Chief Financial Officer of North Atlantic Drilling.
Mr McReaken has almost 20 years of experience in the offshore drilling industry, which includes various leadership roles in the United States, North Sea, West Africa and South America. He began his career at Arthur Andersen and is a Certified Public Accountant and Certified Internal Auditor.
He holds a degree in business administration from The University of Texas at Austin.
Tim McGarity, Division VP Drilling Services – NOV
Mr McGarity serves as Director, Western Hemi-sphere Offshore at NOV's Rig Technologies. During his tenure with NOV, he has worked both land and offshore in operations and business development.
Prior to coming to the oilfield, Mr McGarity worked in international shipping for CP Ships as the manager of the its government/military team. He holds a Bachelor of Science from Texas A&M Galveston and is a veteran of the United States Marine Corps.
Mike Garvin, Division VP North America Onshore – Patterson-UTI
Mr Garvin serves as President at Patterson-UTI Drilling Company. He previously held the position of Senior Vice President, Operations. Prior to that, Mr Garvin worked for Ensco as the Senior Deepwater Operations Manager, overseeing the construction of a fleet of deepwater semisubmersible rigs in Singapore and then starting up and managing operations in various locations around the world. Prior to that, Mr Garvin spent 27 years with GlobalSantaFe and its predecessor and successor companies, holding various operations and support leadership positions.
Mr Garvin earned a Bachelor of Science degree in engineering from California Polytechnic State University in 1994.
Brian Woodward, Division VP Offshore – Noble Corp
Mr Woodward is Vice President of Corporate Services at Noble, where he manages the company's human resources, information technology, supply chain, and HSE functions. He previously served as Noble's Global Operations Manager and has held various roles in operations, marketing, investor relations and HSE.
Mr Woodward graduated with a BBA in management from the University of Texas at Austin and received an MBA in oil and gas management from Robert Gordon University in Aberdeen.
Miguel Sanchez, Division VP International Onshore – Nabors Drilling International
Mr Sanchez is Vice President, International Operations for Nabors. He started his career with BP in Venezuela in 1997 before moving to the US, where he held several upstream and downstream roles for BP. He then moved to the services industry, working for Key Energy Services, Saxon Energy Services, Parker Drilling and Weatherford Drilling International.
He holds a Bachelor's in business administration; a Finance Graduate program from Universidad Metropolitana in Venezuela; and a Master's degree from the Arthur D. Little School of Management.