ADNOC begins work on injection well as part of fully sequestered CO2 injection project in carbonate rock
ADNOC has begun work on what the company says will be the world's first fully sequestered CO2 injection well in a carbonate saline aquifer. The company expects to begin injecting CO2 in Q2 2023.
"At Al Reyadah, ADNOC deployed the region's first carbon capture project at scale, and we are taking another tangible step to deliver on our $15 billion decarbonization action plan with the world's first fully sequestered CO2 injection well," said Yaser Saeed Almazrouei, ADNOC Upstream Executive Director.
The project follows guidance from ADNOC's Board of Directors to accelerate delivery of its low-carbon growth strategy and for the allocation of $15 billion to decarbonize ADNOC's operations.
Once operational, the project will initially aim to fully sequester at least 18,000 tons of CO2 per year via injection into Abu Dhabi's onshore carbonate aquifers.
The well location for CO2 injection, as well as targeted geological formations, were identified using the results of ADNOC's 3D seismic survey and the company's subsurface modeling capacity.
ADNOC says it expects the project will contribute to the production of lower-carbon ammonia, a cost-competitive hydrogen carrier that can be scaled up quickly and has lower-carbon intensity than other fuels. The project will also be monitored and assessed using advanced technology at ADNOC's Thamama Digital Centre of Excellence.
Denbury to develop CO2 sequestration in Wyoming
Denbury finalized an agreement for the right to develop a CO2 sequestration site on nearly 15,000 acres in Campbell County, Wyo., directly underneath the company's Greencore CO2 Pipeline. Potential CO2 sequestration capacity of the site, named Corvus, is estimated at 40 million metric tons.
The company also announced goals to execute additional CO2 transportation and/or storage agreements from both brownfield and greenfield projects so that, by the end of 2023, Denbury's cumulative agreements will cover CO2 emissions totaling 30 million metric tons per year.
Denbury is working to further expand its dedicated CO2 storage portfolio with the acquisition of additional sequestration sites; these will likely be located near areas with high concentrations of current and future CO2 emissions.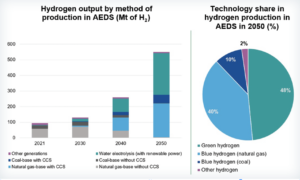 GECF commentary: Natural gas-based blue hydrogen with CCS will be a key player in the energy transition
The Gas Exporting Countries Forum (GECF) recently issued a commentary highlighting the critical role that blue hydrogen can play in the energy transition. Compared with green hydrogen, which is produced through the electrolysis of water using renewable power, blue hydrogen is natural gas based. As such, it is currently more cost-competitive because it uses the existing natural gas infrastructure and technologies for carbon capture and storage (CCS). While cost depends on factors like location, production method and scale of production, each kilogram of blue hydrogen is currently estimated to cost between $1.5 to $3, while green hydrogen is estimated to cost up to $6/kg. However, as renewable energy sources become cheaper and more widespread, the cost of green hydrogen is expected to decline – by an estimated 50% by 2030. The cost of blue hydrogen is also expected to fall in the next decade, as CCS technology improves and becomes more widely adopted.
Under the GECF's Accelerated Energy Decarbonization Scenario (AEDS), it's expected that approximately 200 million tonnes of hydrogen will be generated using natural gas with CCS, accounting for 40% of total output, by 2050. This level of hydrogen production will require more than 930 billion cu m of natural gas by that year, according to the AEDS.
Nabors affiliate to merge with solar power company
Nabors Energy Transition Corp (NETC), an affiliate of Nabors Industries, has entered a business combination agreement with Vast, a solar power company. NETC is a special purpose acquisition company that Nabors formed in 2021, and Vast marks Nabors' ninth and largest energy transition investment to date.
Nabors also recently launched Energy Without Compromise, the company's vision to guide its energy transition efforts. The vision aims to unite Nabors' sustainability efforts from both its core business and its other energy initiatives.
Cross-border CO2 storage being studied in Europe
CapeOmega and Neptune Energy announced NoordKaap, a concept for cross-border CO2 storage for industrial emitters across Europe. NoordKaap would involve transporting CO2 via vessels suitable for directly injecting the CO2 at offshore locations and for terminal offloading. The project will examine the potential for a network-based approach to carbon capture & storage (CCS) via marine transport. The overall objective is to provide cost-effective, scalable infrastructure solutions to facilitate large-scale, flexible CO2 transport and storage from multiple industrial emitters clusters.
NoordKaap aims to offer CCS solutions to industrial clusters where ship transport is the primary or earliest available export option. It would provide access to CO2 subsurface storage sites offshore the Netherlands and Norway.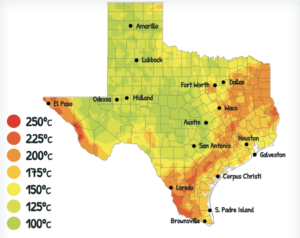 Report shows geothermal industry in Texas may be poised to make a breakthrough
Researchers at five universities – UT Austin, Southern Methodist University, Rice University, Texas A&M University and the University of Houston – as well as the University Lands Office and the International Energy Agency have published "The Future of Geothermal in Texas: The Coming Century of Growth & Prosperity in the Lone Star State." The report includes analyses of the location and quality of Texas geothermal resources, evaluations of technology developments, the role that the oil and gas industry can play, as well as environmental, regulatory, economic and legal issues.
Researchers hope the report can provide a scientific basis for informed decision making among elected officials, regulators and others. The map at right shows the temperature of Texas geothermal resources at 6.5 km depth. Much of the state is believed to be at or near conventional minimum viable temperatures for geothermal power generation.