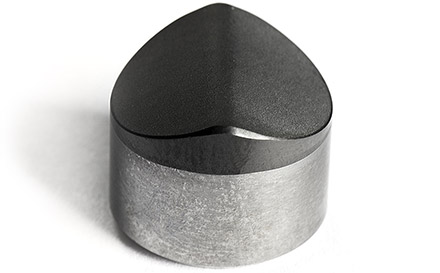 Smith Bits, a Schlumberger company, announced today the release of the AxeBlade ridged diamond element bit, which incorporates new-geometry Axe ridged diamond elements across the bit face. These bits improve rates of penetration (ROP) in a wide range of formations and steering response in directional applications, according to Schlumberger.
"The drill bit market is performance-driven and seeks polycrystalline diamond compact (PDC) bits that provide differentiated performance in ROP," said Murat Aksoy, President, Bits & Drilling Tools, Schlumberger. "The cutting efficiency delivered by the AxeBlade bit addresses our customers' needs by helping to reduce the cost of drilling operations."
The latest generation of Smith Bits 3D cutting technologies, Axe elements have a distinctive ridge shape that combines the shearing action of a conventional PDC bit with the crushing action of a roller cone bit. The unique geometry of the element breaks rock more efficiently, requiring 30% less force. It also delivers improved control compared with conventional PDC cutters when drilling directionally, the company said.
The AxeBlade bit has been field-tested in a variety of applications, drilling more than a cumulative total of 200,000 ft (60,960 m). In a field trial in South Texas, the bit kicked off from vertical to a 90° angle and continued drilling the lateral section for a total of 3,586 ft (1,093 m) with 29% faster ROP compared with offset wells.
AxeBlade and Axe are marks of Schlumberger.