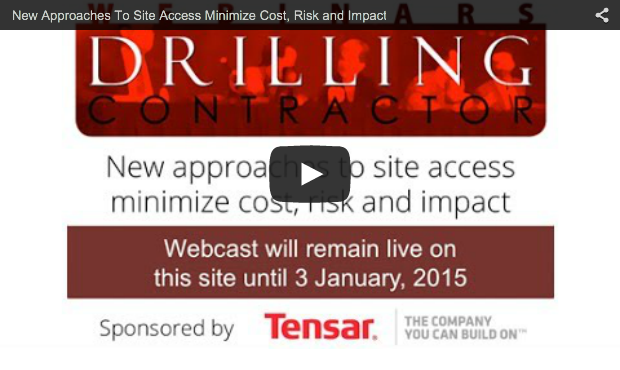 NOTE: This is an extended webcast. Please allow for a brief initial stream time.
If the video seems to stall or hang, please wait. The video WILL resume in full.

Questions? Please Contact the Webmaster.
>> CLICK HERE TO DOWNLOAD THE PRESENTATION IN THE VIDEO
>> CLICK HERE FOR MORE INFORMATION ON PCASE
Please note that the slides in this video are the property of and bear the copyright of the speakers and their companies. Please do not use any portion of these slides for commercial purposes.
After the webinar, don't forget to post questions by visiting:

Video Webinar: "New Approaches To Site Access Minimize Cost, Risk and Impact"
Sponsored by Tensar
Good corporate citizenship and sound environmental practices are vital to maintaining the industry's license to operate. At the same time, cost control is as important as ever, particularly with softer short-term energy prices. One area of public sensitivity is the damage E&P operations can cause to local roads. This virtual panel discussion, sponsored by Tensar International, will explore new approaches to site access that is said to reduce both footprint and cost.
Participants for the virtual panel discussion are:
Clark Holmes, Oil & Gas Business Development Manager for Tensar International;
Keith Brooks, Petrochemical Business Development Manager for Tensar International; and
John Bolton, Director of Marketing for Tensar International.
An expert in soil stabilization applications, Tensar International offers state-of-the-art design solutions that can be used effectively in the oil and gas industry for roadways and working platforms.
This virtual panel discussion discusses solutions to developing long-lasting access and haul roads more cheaply, with less environmental impact, and with a superior road surface, which improves safety, operational speed and productivity.
About Tensar International
Headquartered in Atlanta, GA, Tensar International Corporation (Tensar) is a full-service provider of specialty products and engineering services that offer innovative and cost-effective alternatives to traditional construction methods. Tensar solutions are based on advanced soil reinforcement technologies and incorporate proprietary, engineered applications for oil & gas, industrial, municipal and transportation infrastructure site development. The company specializes in solutions for common site development challenges, including grade changes requiring retaining walls and poor soil conditions affecting the cost of roadways, drilling pads and foundations. Patented, polymeric Tensar® Geogrids are the primary components of the company's systems, offering reliable strength and durability. Contracted services include site evaluation, conceptual engineering, design, value engineering and installation advice. For more information, visit http://www.tensarcorp.com.
Please note that the slides in this video are the property of and bear the copyright of the speakers and their companies. Please do not use any portion of these slides for commercial purposes.
About The Panel:
Clark Holmes
Clark Holmes joined Tensar as Oil & Gas Business Development Manager following a 35-year career in the upstream industry. Following college, Mr Holmes learned the nuts and bolts of engineering, manufacturing and installing a wide range of drilling and completion equipment. Clark moved to Bangkok as branch manager, and was soon promoted to country manager, becoming the company's youngest country manager.
Clark was subsequently named area manager, before long became president and director in Southeast Asia.
His sterling achievements earned him the promotion to executive vice president at the company's Houston headquarters, where Clark was charged with revamping the North American business and ensuring streamlined production.
Keith Brooks
Keith Brooks is Petrochemical Business Development Manager for Tensar International Corporation, based in Cypress, Texas. Keith joined Tensar in 2010 as a regional manager in Portland, Oregon, and completed assignments in Portland, Dallas, and now Cypress.
Keith works with petrochemical owners, engineers, and contractors to provide cost-saving solutions for the petrochemical and supporting industries.
Before joining Tensar, Keith served in multiple capacities for Contech Construction Products, including strategic market director for mining; sales manager; and Tensar specialist. He is a 1998 Civil Engineering graduate from Oklahoma State University and is a licensed professional engineer in the state of Texas.
John Bolton
John Bolton has more than 20 years experience in the geosynthetics industry, including design, sales, business development and marketing. He has published and presented numerous papers on the design and use of geosynthetics and Tensar systems for site development.
John is an active member of the Geosynthetic Materials Association Executive Council, the American Rail Engineering and Maintenance-of-Way Association Committee One, the Geo Institute, the American Society of Civil Engineers, and the CEB Marketing Leadership Council.
He holds a Bachelor of Science in Civil Engineering from the Georgia Institute of Technology and a Masters of Business Administration from Georgia State University.