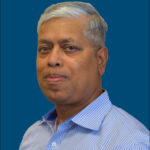 Intelligent Wellhead Systems (IWS) announced that Shiblee Hashem has joined its executive management team as Vice President of Operations. In his new role, Mr Hashem will lead the operations team, including the regional managers and US facilities teams, and work closely with the COO to meet the company's financial goals.
Mr Hashem brings more than 25 years of oil and gas consulting and operations management experience in both upstream and downstream services. Throughout his career, he has worked closely with some of the largest independents and national oil companies in Europe, the Middle East, Asia, North and South America, and Africa. Prior to joining IWS, he held senior management positions with AccessESP (a Baker Hughes Company) and Halliburton.
In addition, Mr Hashem belongs to the Project Management Institute (PMI) and the US Gulf Coast Section of the SPE. He is currently serving as the Program Chairperson of the SPE's Bangladesh Section.