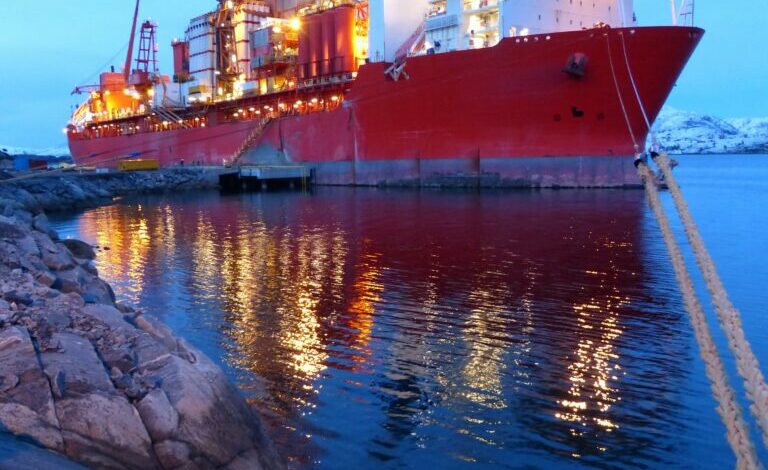 DP rig upgrade may reduce carbon emissions by nearly 5,000 tonnes/year
In a recent project, ADC Energy identified that an upgrade to a dynamically positioned (DP) rig's power systems can reduce carbon emissions by almost 5,000 tonnes per year.
Typical DP drilling units operate in HV split-bus, or open-bus, configuration with the power management switchboards operating in silos, using an independent island philosophy. However, this mode, from a redundancy perspective, requires more engines to be online than may be required for the total operational loads, creating a potentially greater emission output.
By upgrading existing rig power management systems to allow for closed-bus mode, which ties the switchboards together, the power plant can be run with fewer engines and optimal loads, therefore delivering a more efficient power source.
The project highlighted that DP rigs operating in the closed-bus configuration can reduce annual CO2 emissions by 4,800 tonnes per year – delivering a fuel saving of $620,000/year – while reducing engine running hours by 20%.
With the number of engines required to be online at one time lowered, the enhancement also provides operators with greater maintenance schedule flexibility, which can create potential maintenance savings of up to $150,000 per year.
H&P issues its first Sustainability Report
Helmerich & Payne (H&P) released its inaugural Sustainability Report in December. "This report provides greater transparency into how we operate as a company," President and CEO John Lindsay said. Highlights include:
An approximate 23% reduction in Scope 1 emissions on a normalized basis since 2018;
30-70% reduction in power draw with the installation of LED lights, compared with legacy lights since 2018;
A reduction in serious injury and fatality (SIF) rates since 2018, with zero SIF actual incidents in fiscal 2021.
$3.6 billion project to help decarbonize ADNOC offshore operations by 30%
Abu Dhabi National Oil Company (ADNOC) and Abu Dhabi National Energy Company (TAQA) recently announced a $3.6 billion strategic project to significantly decarbonize ADNOC's offshore production operations.
The project will see the development and operation of a first-of-its-kind high-voltage, direct-current subsea transmission system in the Middle East and North Africa region. It will power ADNOC's offshore production operations with cleaner and more efficient energy, delivered through the Abu Dhabi onshore power grid, owned and operated by TAQA's transmission and distribution companies.
The development is expected to reduce the carbon footprint of ADNOC's offshore operations by more than 30%, replacing existing offshore gas turbine generators with more sustainable power sources available on the Abu Dhabi onshore power network.
Chesapeake achieves ESG certification
Chesapeake Energy has become the first company to certify Haynesville natural gas operations jointly under the MiQ methane standard and the EO100 Standard for Responsible Energy Development.
Chesapeake has pledged to reduce its methane intensity to 0.09% companywide by 2025. MiQ Certification provides a verified approach to tracking this commitment, as well as supporting the company in reaching its overall objective of achieving net-zero direct greenhouse gas emissions by 2035. Chesapeake's commitment to all aspects of ESG excellence will be verified annually against the EO100 Standard.
Chesapeake also recently launched an ESG microsite dedicated to the company's ESG reporting and progress toward its climate-related targets.
Click here to visit Chesapeake's new ESG microsite.
Nabors aims to build lower-carbon portfolio through energy transition initiatives
Nabors has introduced Nabors Energy Transition Solutions, a portfolio of technologies designed to drive energy efficiency and emissions reductions for the company and third-party customers. It currently includes proprietary emissions reporting and analytics software, engine management controls, energy storage systems, hydrogen injection catalysts, carbon capture technology and fuel-enhancing additives, as well as traditional high-line power and dual-fuel offerings.
Nabors is also exploring opportunities to extend certain solutions beyond oil and gas to other industries, such as the hundreds of thousands of engines used today in maritime applications and power generation.
Further, the company has engaged in venture investment opportunities to enter several high-growth potential segments in emerging lower-carbon markets. Initial targets include alternative energy sources, such as geothermal and hydrogen, energy storage and carbon capture. To date, the company has partnered with three geothermal companies – Geo-X Energy, SAGE Geosystems and Quaise – to deepen its existing geothermal experience and evaluate new commercial business models.
Finally, Nabors continues to assess energy transition opportunities. Notably, on 16 November, Nabors Energy Transition Corp, a recently formed special purpose acquisition company and an affiliate of Nabors, raised $276 million in an initial public offering.
Industry deploys drones to measure methane emissions
Neptune Energy recently completed a project with the Environmental Defense Fund (EDF) to measure methane emissions on a working UK offshore platform using advanced drone technologies.
Fixed wing and rotary drones equipped with methane-sensing equipment were deployed for the study on the Cygnus gas production facility in the UK Southern North Sea. The goal was to assess advanced methods for identifying and quantifying facility-level offshore methane emissions, as well as actions to reduce them. The results of the study will be published in a scientific peer-reviewed paper in 2022.
EDF scientists coordinated the five-day study, which involved a team from UK-based drone platform provider Texo DSI operating a rotary drone that was provided by Scientific Aviation. Equipped with sensing technology, the drone measured emissions at multiple locations around the platform.
In parallel, an unmanned fixed-wing drone carrying methane measuring and analytics technology provided by SeekOps was flown from Weybourne Airfield in Norfolk to the Cygnus platform. Operated by Flylogix, the aircraft circled the facility, starting at a point above the platform and reducing incrementally to just above sea level, recording the total volume of emissions. Covering a total of more than 313 miles, the operation is believed to be one of the longest of its kind to be carried out in the UK North Sea.
Apache ends routine flaring in US onshore operations
Apache Corp announced it has ended routine flaring in its US onshore operations. This was enabled by investing more than $850 million in two new natural gas pipelines, as well as firm transportation commitments made by Apache on both pipelines to help underwrite and ensure construction of that infrastructure. This capacity investment was critical to move gas to market and reduce flaring for operators throughout the Permian Basin.
In 2021, Apache's parent company APA announced ESG goals that tie directly to incentive compensation for all employees.
Shell, Baker Hughes partner on net-zero emissions
Shell Global Solutions and Baker Hughes have signed a broad strategic collaboration agreement to accelerate the global energy transition by helping each other achieve their respective commitments for net-zero carbon emissions and advancing solutions to decarbonize energy and industrial sectors. Shell will initially provide select Baker Hughes US sites with power and renewable energy credits, and the companies will negotiate renewable power for Baker Hughes' sites in Europe and Singapore.
There will also be broader collaboration to identify other opportunities, such as Baker Hughes providing low-carbon technology solutions for Shell's LNG fleet.