Click here to view this article in the Digital Reader
By Stephen Whitfield, Associate Editor
As wells become more complex and new automation technologies are added to drilling processes, rig crews have become increasingly reliant on alarm systems – both to keep people safe from hazards like dropped objects and to help them manage the plethora of data coming in from various sensors on surface equipment and in the wellbore.
With safety-related alarms, recent advances have propelled computer vision technologies to the forefront, primarily by enabling continuous, dynamic monitoring of the areas where heavy drilling equipment operates and the risk of serious injury or fatality is the highest. By combining artificial intelligence (AI) and machine learning with cameras installed in hazardous areas, these systems are helping to mitigate the potential blind spots and errors that come from humans monitoring the rig floor.
"Our primary objective is keeping our crews safe, and we'll utilize whatever tool we can – video analytics, AI, machine learning – to help us meet that objective," said Richard McConomy, Manager of Seadrill's PLATO digital platform, which helps the company leverage large data sets for better decision making. "Video analytics powered by AI is an efficient tool for detecting and managing safety issues in real time by sending alerts to prevent accidents."
For alarms related more to equipment and operational performance, companies are focused on leveraging advanced data analytics, which can involve moving data processing from the cloud to the rig site, so alerts can go out as early as possible.
"We want to get notified of those moments where we're leaving performance on the table as they happen, instead of getting a post-well analysis where we realize we were limiting," said Trevor Olson, Drilling Optimization Manager at Patterson-UTI. "If a mud pump goes offline and we're not able to get enough flow rate in a certain section, we're not performing as efficiently as we want. We want to be able to see that as it happens and be proactive about addressing those limiting factors."
Maximizing performance
Last year, Patterson-UTI started rolling out its Rules Engine Exchange (REX), a cloud-based real-time alerting system for monitoring equipment and maximizing performance. It uses data from electronic drilling recorders, rig control systems, morning reports and real-time models calculated at the rig site to deliver alerts of operational events in near-real time via text messaging, e-mail and an online interface.
Users can customize the system to their own needs by subscribing to specific types of alerts or even creating new alerts for themselves. Three categories of alerts are available: simple operational events, such as when a rig started or completed a trip or reached a well's total depth; equipment alerts, which notify users when specific pieces of equipment have entered a fault or warning state; and data quality alerts, which tell users when a sensor on a given rig is returning improper values.
Patterson-UTI finished the first stage of REX's development last year – building its backend infrastructure and user interface, installing it over a cloud computing network and completing field trials validating the system's effectiveness. Since then, the company has been working on the next development stage, which involves adding alerts to cover additional performance-limiting scenarios and equipment issues, as well as installing the REX engine directly onto servers housed on Patterson-UTI's rigs. The company intends to have the system fully installed on all rigs by the end of this year.
Building infrastructure for the REX system to run directly on the rigs will allow the company to deploy alerts locally instead of through the cloud-based infrastructure, Mr Olson said. By installing the system on the company's CORTEX KEY edge servers, which are housed on each rig and connected to the rig control system and the electronic drilling recorder, the company believes it will be able to reduce the time needed to process data and get alerts out to the rig crews.
"Right now, the main hindrance with the cloud is that we're only as fast as the slowest data that we have coming in," Mr Olson said. "We can get the rig control system data basically in real time, but we get the EDR data in five-minute packets from our service provider, so we have to run the rig alert system at least five minutes after. Then, it takes a couple of minutes to run code and deliver the alert. By housing all of this in CORTEX KEY, there's going to be zero time to get the data in there. Instead of getting notifications out in five or seven minutes, we will be able to get them within one minute."
This reduced latency will become important for Patterson-UTI as it incorporates more alerts dealing specifically with the potential for loss of well control into the REX system, Mr Olson said.
The company currently has 83 alerts validated and available on the REX system, with an additional 30 alerts under consideration. New alerts, which have focused more on safety and hazardous event detection, have tended to be more complex than the initial alerts developed for the system and must be validated for efficiency over a set of sample data sets. Examples of the new alerts include identifying potential rig blackouts, mud pump expendable failures, stuck pipe and well control procedural compliance.
New alerts like these have been a key driver for installing REX directly on the rig's servers, Mr Olson said. "For almost all the alerts we have on REX, the latency doesn't necessarily affect the quality of the system. It's not diminished because, for the most part, these alerts are not for things that you need to know the second they happen. But as we're getting more in depth with things like well control alerts, we want to know things the second it happens so that we can take quick action."
Patterson-UTI says it expects to complete a pilot installation of REX on 10 rigs in Q4 2023, then install it on all rigs by Q1 2024.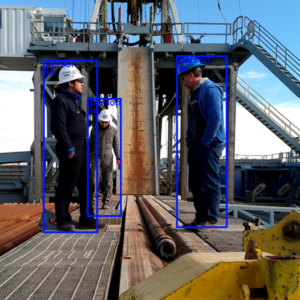 Addressing dropped object risk
Like with the rest of the drilling industry, alarm systems are nothing new for Helmerich & Payne (H&P). The company has integrated numerous custom alarms measuring various performance objectives for its customers. It has an alarm system monitoring excess engine use, which aims to conserve engine power on the rig. It also has alarm systems for avoiding wellbore collisions downhole.
However, some of the technologies and systems the company has been developing recently have centered around the mitigation of dropped object risk. One such technology H&P is set to launch is aimed at keeping people away from the pipe delivery system (PDS) during high-risk activities: PDS Redzone.
"We're approaching this from our most vulnerable areas," said Mike Lennox, H&P Senior Vice President, US Land. "Where's our greatest opportunity? That's around the PDS and the rig floor. That's our greatest exposure."
Existing procedures are already in place to reduce the likelihood of serious injury in the PDS area: using proper buffer zones and barricades, equipment inspections, and thorough pre-job planning to ensure all equipment components are in good working order and safety procedures are followed. Still, there remains a risk of serious injury or fatality (SIF) from a dropped tubular in the red zone, which H&P defines as a 45-ft radius from the PDS rack.
The PDS Redzone computer vision system uses a neural network to break the individual frames of the incoming video into smaller parts and detect essential features. The neural network is trained on large data sets containing images or videos annotated with the positions of critical points, such as the top of the PDS or features of a human body. It learns to detect and associate these key points with specific body parts or features, enabling it to estimate the position and movement of an object or person in new, unseen images.
When the PDS is activated, and operational conditions satisfy the specified logic criteria for detecting a person or persons, the system automatically triggers an audible alarm and strobe to alert the individual of entry into the exclusion zone and simultaneously stops the PDS hydraulics.
Improvements to the system have been made as a result of field testing on rigs in the Permian Basin. Refactoring the PDS Redzone code has resulted in a 150% frame rate increase, wider field of view, and four times more pixels per image. The camera system also was relocated from under the rig floor to near the winch on the back of the PDS to primarily focus on the top of the PDS.
Further, H&P aims to establish an extended management protocol for the exclusion zones beyond the red zone atop the PDS, aligning with existing practices of employing physical barricades and buffers. "We want to set it up so that there's a buffer on all sides of the pipe delivery system. Instead of just monitoring the area in the immediate vicinity of the PDS, we want to monitor further out because the exposure of tubulars is still great," Mr Lennox said, adding that the company plans to fully launch the app throughout its fleet sometime in the next year.
H&P's Caliper Calculator app was also designed to reduce dropped object incidents. A dropped casing incident in 2011, due to mismatched elevator sizes, revealed the need to create a better system for this task. Caliper Calculator, located on the rig's tablet and directly linked to their FlexChecks electronic pre job planning app, alerts the rig crew when inner diameter and outer diameter validation is needed. It is designed to automatically determine if the measurements are within the allowable tolerances, reducing exposure of using the wrong sized elevators.
Another H&P app, Rough Drilling, was also designed to mitigate the risk of dropped objects during periods where the level of vibration of the drillstring exceeds anticipated levels while moving downhole.
The company defines "rough drilling" based on standard deviations of hookload and torque. The app calculates these deviations in real time: If it detects that the deviations are significant enough to potentially cause severe vibrations – the thresholds for "rough drilling" depend on the rig and the formation being drilled – it displays a red placard on a monitor in the driller's cabin and sounds an alarm alerting the driller to clear the rig floor. If that alarm goes past a predetermined period of time, another alarm will call for an inspection of the traveling equipment and mast to identify any potential issues requiring intervention.
"Even though we may not be able to eliminate rough drilling, we can prevent the exposure by ensuring our employees are aware of the hazard and stay off the rig floor during these activities. We have to keep our employees' safety in mind and remove those exposures," Mr Lennox said.
The Rough Drilling App was launched in 2021 and is currently available on all H&P rigs.
Monitoring for absence of PPE
Over the past year, Seadrill has deployed three of its drillships to Petrobras' Búzios field offshore Brazil for exploration work: the West Carina and West Tellus in September 2022 and the West Jupiter in February this year. For all three rigs, both operator and contractor agreed to install Altave Harpia, a Brazil-developed PPE detection and red zone management system that alerts drillers of potential accident risk in the red zone.
The technology utilizes computer vision to interpret data gathered from six cameras connected to terminals, which are hardware systems that handle the input and output of data. The cameras are installed on the pipe deck, rig floor and the riser deck – all high-traffic areas with a lot of moving equipment. AI and machine learning algorithms built into the software are used to detect the absence of PPE on people located within a red zone. In case that is detected, the software sends an alert to the driller, who can then decide on an appropriate course of action. Besides a pop-up alert in the driller's cabin, alerts can also be seen on monitors installed at the bridge, the companyman's office, the toolpusher's office, deck pusher's office, HSE office and at each crane located on the rig.
A camera-based system like Altave Harpia allows Seadrill to have better granularity in analysis compared with previous monitoring systems. This can improve monitoring efficiency, Mr McConomy said, as it minimizes the errors derived from human interpretation of data.
"Because the camera system is powered by AI, it's an efficient tool for detecting and managing safety issues in real time and for sending alerts to prevent accidents. Machine vision with AI is what's allowing for certain patterns to be automatically detected, like differentiating a hand with gloves from one without, or determining if a person is in the red zone. Tracking and trending common alerts provides us with simple opportunities to improve our operations planning," he said.
While Seadrill has not released any safety metrics from the Brazil rigs, Mr McConomy said he's confident that computer vision technology will become an important tool in the driller's safety toolbox.
"I'm a firm believer that cameras will play a huge role as the sensors of the future. We're just scratching the surface of their capabilities and the technological advancements in not only camera quality but also processing power. Brazil is currently our test bed for this particular technology, but the quality of the system is continuously improving. We could benefit from standardizing this system across our rig fleet," he said. DC