Simulations demonstrate how HFTO suppressor tool can reduce shock amplitude in Permian wells
Recent simulations have shown that using shock and vibration suppressor technology can reduce shock amplitude by 64% in Permian Basin wells, compared with offset wells, according to SLB.
Operators in this region often experience excessive shock and vibration, particularly high-frequency torsional oscillation (HFTO). Excessive HFTO is the leading cause of downhole tool failures, including cracked drill collars, broken measurement tools and electronic component failures. These can lead to additional trips, time and cost.
In the past, Permian operators have used different types of shock and vibration dampening tools to mitigate the effects of HFTO, but success has typically been limited. Field data showed similar spikes in amplitude and frequencies between dampened and non-dampened BHAs. These high and sporadic shock amplitudes resulted in costly, fatigue-induced drillstring failures, including twist-offs and broken components in the rotary steerable and MWD equipment.
SLB designed its HFTO Suppressor tool to reduce downhole shock and vibration while drilling in challenging formations. The company used IDEAS, its integrated dynamic design and analysis platform, to simulate HFTO at various points throughout the BHA. This helped SLB engineers to determine the ideal location for the HFTO Suppressor within the assembly.
The IDEAS simulations verified that the mechanical suppressor tool could reduce shock amplitude by 64% compared with drillstrings without dampening tools. Additionally, the data revealed a 48% reduction in shock amplitude compared with other shock and vibration dampener tools.
LWD ultrasonic imager identifies fractures in Turkey well
In Turkey, an operator was encountering challenges logging the well due to borehole conditions. The operator was seeking high-resolution borehole image data to identify fractures in the vertical well, which was filled with 14.84 lb/gal oil-based mud.
For this project, Weatherford ran its UltraWave logging-while-drilling (LWD) ultrasonic imager. The logging suite also included a real-time telemetry system, gamma ray, multi-frequency resistivity and sonic tools. UltraWave allowed the operator to directly identify fractures and other features in the borehole even in the presence of heavy mud and a high concentration of solids. The LWD tools were able to acquire gamma ray, resistivity and sonic data together with high-amplitude images from the UltraWave for reservoir evaluation and completion planning.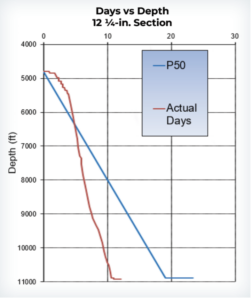 RSS sets record, saves 7 days of drilling time offshore UK
In a North Sea production well, an operator sought to drill from a whipstock set in 13 3/8-in. casing in soft Tertiary formations and complete the section drilling through hard chalk formations. Other challenges included kicking off successfully from the main bore, as well as overcoming challenging directional profile with anti-collision.
To achieve this, Weatherford deployed an integrated solution that included the 950 Magnus rotary steerable system (RSS). The strategy was to use the RSS on a second bit run through the chalks. Based on previous offset wells, the main challenges expected for this section were fluid losses, wellbore stability, abrasive wearing and vibration.
The well profile was S-shaped with a 3-3.5° dogleg severity requirement, with the maximum inclination building to 40° and turning a total 246° azimuth from kickoff to section TD.
The Magnus RSS drilled a total footage of 6,080 ft across the section, maintaining a rate of penetration average of 50 ft/hr. The optimized efficiency saved the operator seven days of drilling time.
The run met all directional objectives and even achieved a record for the longest-drilled run in the 12 1/4-in. section to date in the field.