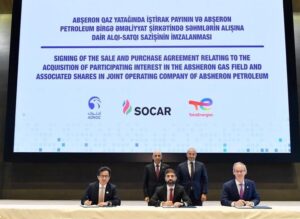 ADNOC bolsters its international gas footprint with investment in Caspian Sea
Abu Dhabi National Oil Company (ADNOC) is acquiring a 30% equity stake in the Absheron gas and condensate field in the Caspian Sea. ADNOC will own a 30% participating interest in Absheron, with the State Oil Company of Azerbaijan (SOCAR) and TotalEnergies each holding 35% stakes. ADNOC's investment into the Caspian region aims to create a substantial growth position as it enters the international gas market, and reinforces the energy partnership between the United Arab Emirates and Azerbaijan. Entering into a strategic partnership with SOCAR also elevates ADNOC's long-standing partnership with TotalEnergies.
Transocean ultra-deepwater drillship to drill offshore Mexico under $518 million contract
An independent operator awarded Transocean a 1,080-day contract for a seventh-generation ultra-deepwater drillship in the Gulf of Mexico offshore Mexico. Transocean will select the drillship from among the Deepwater Invictus, Deepwater Thalassa and Deepwater Proteus no later than one year prior to the earliest date in the commencement window. The contract will contribute approximately $518 million in backlog and is expected to commence between Q4 2025 and Q2 2026. The contractual dayrate is subject to a semi-annual cost adjustment with a baseline established on 1 July 2023.
"The fact that our customers are securing rigs well in advance of their programs and committing to long-term contracts clearly demonstrates the tightness of the market," Transocean CEO Jeremy Thigpen said. "Additionally, our ability to designate the specific rig closer to the commencement of the program provides us with increased flexibility."
Valaris set to reactivate DS-7 drillship for 12-well contract offshore West Africa
Valaris was awarded a 12-well contract offshore West Africa for the VALARIS DS-7 drillship, which will be reactivated for this contract. It is expected to commence in Q2 2024 and has an estimated duration of 850 days. The total contract value is estimated to be $364 million. The contract requires minimal customer-specific upgrades to the rig and does not include the provision of any additional services.
This is Valaris' seventh floater contract since mid-2021 that requires reactivation.
'Clustered exploration' approach leads to 6 additional discoveries offshore Malaysia
PETRONAS Carigali has made six oil and gas discoveries in five blocks off the coast of Sarawak, Malaysia: Gedombak in Block SK306, Mirdanga in Block SK411, Sinsing in Block SK313, Machinchang and Pangkin in Block SK301B, and Kalung Emas in Block SK315.
The discoveries were achieved on the back of an intensive domestic exploration drilling campaign commenced in late 2022, which had also led to the discovery that year of Nahara-1 in Block SK306, one of PETRONAS Carigali's most significant oil discoveries within the last decade.
PETRONAS Carigali attributes these successes to its "clustered exploration" approach, a unique style of prospecting suited for highly matured geological provinces.
Borr jackups, Gerd and Thor, headed for work in Middle East and Southeast Asia
Borr Drilling secured two binding letters of awards from undisclosed customers for its premium jackups Gerd and Thor. The awards increase Borr's firm backlog by approximately 421 days, excluding optional periods.
Gerd will work in the Middle East under a contract with a firm scope of 270 days and one unpriced optional scope of 60 days. Upon concluding its current contract with Addax in Q3, the rig will undergo mobilization, statutory surveys and recertification before starting its new commitment in December 2023. Thor will work in Southeast Asia under a contract with a firm scope of two wells with an estimated duration of 151 days. This contract is expected to commence in December 2023 in direct continuation of the rig's ongoing contact.
Tullow and partners begin production from Jubilee South East project offshore Ghana
Tullow, alongside its joint venture partners Kosmos Energy, Ghana National Petroleum Corp, Petro SA and Jubilee Oil Holdings, announced the successful startup of the Jubilee South East Project offshore Ghana. Two more producers and one water injector are expected to come on stream this year to help sustain gross Jubilee production over 100,000 bbl/day of oil. This increased level of production is expected to be maintained at Jubilee over the next few years as multiple future drilling locations have already been identified.