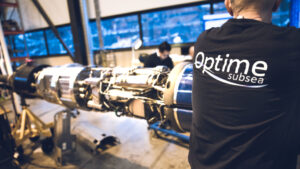 High-speed wireless communication system tested, qualified offshore Norway for subsea well completions
Optime Subsea recently tested and qualified a high-speed wireless communication system for completion of subsea wells.
The wireless communication system, part of Optime Subsea's Remotely Operated Controls Systems (ROCS), was tested at the Wintershall Dea-operated Nova field, offshore Norway in 370-m water depth.
"This is a game-changer for the oil and gas industry, which for 20 years has tried to solve this challenge," said Trond Løkka, Chief Innovation Officer at Optime Subsea. "For the very first time, the complete wireless installation of the tubing hanger on the subsea tree was accomplished without relying on a wired drill pipe."
When completing subsea wells, the tubing hanger is placed on top of the wellhead, as a seal toward the rest of the subsea well. Normally the tubing hanger is controlled through a dedicated hydraulic umbilical that runs from the topside to seabed and adds a 20-30 ft control container topside. However, Optime Subsea's ROCS removes the need for both the umbilical and the topside hydraulic unit.
For instantaneous data transfer from downhole to surface and back, Optime Subsea had relied on a wired drill pipe. Now, by replacing the wired pipe with a subsea wireless telemetry system, CAPEX investments and operating costs can be further reduced.
"Think Wi-Fi from topside to seabed, to control well completion operations. We have proven that this is both possible and reliable. In our view, this way of installing tubing hangers on subsea trees will become the new industry standard for subsea well completion operations worldwide because of its substantial cost and environmental savings versus competing methods," Mr Løkka said.
While the first operation was performed on Wintershall's Nova field, Optime Subsea noted Aker BP's support during the development of the wireless communication system.
Nabors and Hess electrify Bakken drilling rigs
Nabors has converted all four of its drilling rigs working in the Bakken for Hess Corp to highline power.
Nabors installed its Canrig PowerTAP Highline Power Transformer Module to enable direct power from the utility grid. Oonsite backup generators ensure power goes uninterrupted if an outage occurs.
Over the next five years, Hess expects these fully electric rigs will reduce greenhouse gas emissions from its Bakken drilling operations by approximately 50% and energy costs by approximately 70%. Powering drilling operations with electricity also reduces noise and truck traffic.
The use of electricity as the primary energy source increases rig reliability by providing a secondary power source, Hess said during the project's pilot in 2022. Looking ahead, the operator said it also expects electrification of the rigs and access to highline power to reduce downtime.
Nabors rigs have long been running on grid power. More recently, Canrig Drilling Technology, a division of Nabors, released its transformer technology. PowerTAP enables highline power utilization on any AC drilling rig where grid power is accessible, regardless of rig manufacturer. It is skid-mounted for easy transport to and from rigsites and easily installed anywhere compatible utility electrical power is available using a standalone conductor cable reel.
Field results from more than 20 PowerTAP modules deployed in the Lower 48 on Nabors and non-Nabors rigs indicate an initial average savings per rig of 20 metric tons of CO2e daily. Canrig also plans to introduce technologies to power additional wellsite equipment directly from the PowerTAP module and enable phase conversion capabilities where required.
"We are committed to delivering responsible hydrocarbon production through smart, sustainable solutions. PowerTAP is one of many impactful technologies we've purpose-built to simultaneously lower costs and emissions for our customers," said Don Prejean, Canrig Senior VP.
SABER completes testing in operational environment
Enteq Technologies announced that its SABER (Steer-At-Bit Enteq Rotary) tool, an alternative to traditional rotary steerable systems, has completed downhole drilling testing. The system is now proven to be effective in an operational environment.
The trials took place at the Catoosa Drill Test Facility in Oklahoma, following initial testing in Norway earlier this year. During the drilling program, the SABER system was able to generate dogleg in typical reservoir rock conditions.
An independent survey has been conducted to measure the well trajectory, as well as an expert review. Both confirmed the tool's ability to provide sufficient steering forces for the target commercial applications.
Rather than using pads or plates for steering, the tool uses an internally directed pressure differential system across the bit face. By removing these external contact points, the tool reduces wear and improves reliability while also achieving true at-bit steering.