Patterson-UTI promotes Holcomb, Garvin to new roles
James "Mike" Holcomb has been promoted to the new position of Chief Operating Officer of Patterson-UTI Energy, while Mike Garvin has been promoted to President of Patterson-UTI Drilling.
Mr Holcomb joined Patterson-UTI in 1988 through its acquisition of Robertson Onshore and has held numerous leadership positions at the company over the years. For the past decade, he has served as President of Patterson-UTI Drilling and has held numerous leadership positions with IADC.
Mr Garvin began his career with an onshore drilling contractor in California, and since then has held key leadership and operational roles at Patterson-UTI, GlobalSantaFe, Transocean and Ensco. Mr Garvin also currently serves as IADC Division VP North America Onshore.
Bishop Lifting rebrands, expands footprint with Worswick deal
Bishop Lifting Products has rebranded under the name of Bishop Lifting, which now includes Matex, American Wire Rope & Sling, LA Crane, Western Sling and Delta Rigging & Tools. Meanwhile, its rental branches will become Bishop Lifting Rentals. This includes Delta Rigging & Tools and Morgan City Rentals.
Bishop Lifting recently also completed its acquisition of Worswick Group Holdings, including Certified Slings and Supply. This is Bishop's 11th acquisition since 2012. Worswick has 10 operating locations across Florida, and the company said Certified Slings and Supply will maintain its local branding.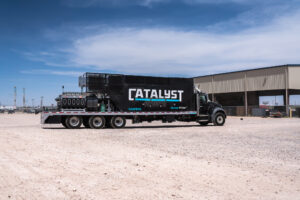 GDEP announces partnerships with US Well Services, Catalyst
GD Energy Products (GDEP) announced it will supply 3,000-hp pumps, each powered by an electric drive motor, for US Well Services' Nyx Clean Fleet e-frac system. The pump were specifically designed for the Nyx Clean Fleet. Two of these pumps will be placed on each trailer, and each 6,000-hp Nyx trailer will take the place of 2.5 conventional diesel units.
Separately, Catalyst Energy Services has selected GDEP's Thunder 5000, a quintuplex pump with an 11-in. stroke rated for 5,000 hp, to safely maximize flow at a slower operating speed in its patents-pending frac solution, VortexPrime. The pump contributes to the proprietary technology within VortexPrime that reduces the number of trucks in its fleet from 20 to just eight, enabling faster setup and take-down.
ABS establishes maritime software as a service company
ABS Wavesight is a new maritime software as a service (SaaS) company that is integrating ABS' Nautical Systems and My Digital Fleet platforms, which are collectively installed on more than 5,000 vessels across the global fleet. My Digital Fleet is an AI-driven analytics and performance visualization platform, and Nautical Systems provides comprehensive tools for fleet management to improve reliability and performance.
Viking Completions awarded new contracts in MENA
Dubai-based Viking Completion Tech-nology was awarded multiple contracts to deliver its well completion manufacture and design services to major operators in the Middle East and North Africa (MENA) region, including in the UAE, Iraq and Oman. The contracts encompass Viking's completion packers, sliding side doors, landing nipples and associated completion accessories.
Seadrill has announced it will acquire Aquadrill in an all-stock transaction. The combined company will own 12 floaters – including seven 7th-generation drillships – three harsh-environment rigs, four benign jackups, and three tender-assisted rigs. Additionally, seven rigs will be managed under strategic partnerships.
ABL Group adds HOSE International to portfolio
ABL Group has acquired the operations of well control equipment specialists HOSE International. HOSE's UK business will become part of ABL's global operations. Over the past three decades, HOSE has completed approximately 2,300 inspections on more than 700 drilling rigs.
Molinaro takes new positions for DLS Archer
Gerardo Molinaro, previously CFO of DLS Archer, has been appointed to serve as VP of Land Drilling. He will oversee operations in Argentina and Bolivia for Archer and its subsidiaries DLS Argentina, DLS Archer and Archer DLS Bolivia.
Pason Systems has increased its non-controlling investment in Intelligent Wellhead Systems (IWS) through the acquisition of outstanding common shares of IWS for $7.9 million and an agreement to invest up to $25 million in preferred shares of IWS.
Schlumberger becomes SLB, acquires Gyrodata
Schlumberger has announced a new name, SLB, symbolizing its ambition to be a global technology company driving the future of energy. The new SLB brand will focus on four main areas: new energy systems, industrial decarbonization, digital at scale, and oil and gas innovation.
In separate news, SLB acquired Gyrodata. Gyrodata's wellbore placement and surveying technologies will be integrated within SLB's Well Construction business.
Apache awards Expro intervention, integrity services contract
Expro announced it received a $50 million well intervention and integrity services contract with Apache Corp in the North Sea. It encompasses pumping and optimization operations across all of Apache's North Sea assets, including Beryl Alpha and Bravo, and Forties Alpha, Bravo, Charlie, Delta and Echo.
Under the contract, Expro will provide services including slickline, e-line, cased hole and pressure pumping, as well as technologies like Octopoda and CoilHose.
Equinor to implement smart contracts on Johan Sverdrup, Troll
Equinor has implemented Data Gumbo's smart contract platform to automatically calculate and execute payments for integrated drilling and well services for Johan Sverdrup and Troll assets. The operator will use the dayrate portions of the broader contract format for two assets worked by one platform and four drilling rigs.
The platform will apply agreed business logic to data shared between Equinor and its suppliers and create charges and invoices.
Rolls-Royce explores new fuels for diesel engines
Rolls-Royce is partnering with Finland-based Neste on the implementation of sustainable fuels for diesel engines; Rolls-Royce's Power Systems business unit makes engines under the mtu brand.
In May 2022, Rolls-Royce approved mtu diesel engines for power generation for renewable diesel (also known as HVO) and other EN15940 fuels. The company says its testing has shown up to 90% greenhouse gas reduction, up to 80% less particulate emissions and an average of 8% nitrogen oxides reduction.
Power Systems is gradually releasing its mtu engine series for sustainable fuels such as HVO and e-diesel for use in other industries, such as the rail, marine and construction industries.
---
PRODUCTS
Automation system launched for surface well testing
Halliburton's new FloConnect system, launched at ADIPEC 2022, automates surface well testing operations while monitoring and measuring factors related to the production of hazardous effluents. It helps reduce operational variability and optimizes workforce deployment, allowing more time and focus on data monitoring, collection and quality. The platform combines data visualization capabilities with interactive analytics to aid decision making, as well as identification and resolution of potential issues with a given well.
Another technology launched at ADIPEC, BrightStar, is a look-ahead resistivity service that reveals structure and fluid boundaries ahead of the bit, enabling proactive drilling decisions and hazard avoidance to reduce operational risks while providing reservoir characterization and enhanced formation evaluation. The service detects changes in the formation ahead of the bit and reduces the uncertainty of the formation boundary positions.
Ikon Science issues new versions of Curate, RokDoc systems
The new version of Ikon Science's Curate cloud-native subsurface knowledge management system focuses on enhancing collaboration in data on an enterprise scale. Updated features include a real-time chat function as drilling operations progress. Additionally, the system's "Well Viewer" app now features the implementation of file-linked, depth-referenced images, which can be dragged, viewed and navigated within a single log-to-core data view.
Ikon Science also released RokDoc Version 2023.1 with expanded functionalities in machine learning and rock physics, as well as new tools to visualize well details and metrics.
Multi-activation circulating sub aims to reduce rig time
NXG Drilling Services' recently launched NXG-MACS (multi-activation circulating sub) was designed to be activated on demand, without the need to drop a ball or dart. The 6 3/4-in. version of the tool is now being commercialized following testing.
WEG variable speed drive helps boost efficiencies
WEG has introduced a variable speed drive (VSD), CFW900, for driving and controlling three-phase induction and permanent magnet motors. It can be used in a wide range of applications, including oil and gas, due to its high overload capacity.
The VSD has a thermal management function that allows for use in extreme temperature environments. It can measure the ambient temperature and configure itself by varying its switching frequency. It also comes with Bluetooth connectivity, and its human-machine interface allows for parameter monitoring with customized layout and components.