DC Virtual Panel Discussion – Selecting 'Casing Friendly' Hardbanding Alloys For Minimum Tool Joint And Casing Wear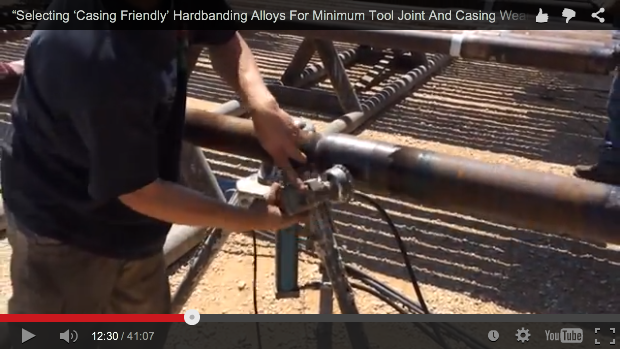 NOTE: This is an extended webcast. Please allow for a brief initial stream time.
If the video seems to stall or hang, please wait. The video WILL resume in full.

Questions? Please Contact the Webmaster.
VPD – Selecting 'Casing Friendly' Hardbanding Alloys For Minimum Tool Joint And Casing Wear
Sponsored by: Hardbanding Solutions
Advanced drilling technology and political pressures are pushing the envelope of drill string tool joint life, as well as casing life. "Casing friendly" hardbanding alloys are replacing Tungsten Carbide, but at the expense of tool joint life. But what are casing friendly alloys? This virtual panel discussion will explore differences among the numerous alloys on the market; why old hardbanding must be removed before re-application of some alloys but not others; cracking issues; selection criteria and more. These are all legitimate questions and concerns to drilling engineers. The key to successful selection is a general understanding of the alloys on the market, their certification requirements, and their wear relationships between the casing and the tool joint.
For over 40 years, Postle Industries has been designing hardfacing alloys and procedures for many industries, including mining, agriculture, recycling and manufacturing. Postle developed Duraband NC for severe wear conditions encountered in today's difficult drilling operations. Postle then developed tool joint build-up wires and a non-magnetic hardbanding alloy, Ultraband. As drilling continues to grow and operational demands change, Postle Industries will be there to support, develop and deliver quality hardbanding products.
Participants:
Steve Stefancic, Hardbanding Solutions
Bob Miller, Hardbanding Solutions
Jim Allen, Allen Inspection
Mike Killalea, DC Editor/Publisher (Moderator)
After the Virtual Panel Discussion (VPD), don't forget to post questions:
Download the presentation used in the Virtual Panel Discussion (VPD):
Please note that the slides in this video are the property of and bear the copyright of the speakers and their companies. Please do not use any portion of these slides for commercial purposes.