Patterson-UTI acquires drill bit provider Ulterra
Patterson-UTI Energy has completed its acquisition of Ulterra Drilling Technologies. The transaction was first announced in July.
In addition to a growing presence in the dynamic Middle East market, the bit provider also has sales, manufacturing and repair facilities across North and South America and Asia.
Further, Ulterra's BitHub data platform complements Patterson-UTI's PTEN+ data platform. "We believe the combination of data systems from Patterson-UTI, NexTier and Ulterra will create the most comprehensive set of data for drilling and completions in the United States," said Andy Hendricks, Patterson-UTI CEO.
Patterson-UTI's merger with NexTier was announced in June and is expected to close before the end of 2023.
ExxonMobil to boost CCS footprint with Denbury acquisition
ExxonMobil entered into a definitive agreement to acquire Denbury in an all-stock transaction valued at $4.9 billion. The acquisition will provide ExxonMobil with the largest owned and operated CO2 pipeline network in the US at 1,300 miles, including nearly 925 miles of CO2 pipelines in Louisiana, Texas and Mississippi, as well as 10 strategically located onshore sequestration sites. In addition to Denbury's carbon capture and storage assets, the acquisition includes Gulf Coast and Rocky Mountain oil and natural gas operations.
The transaction is expected to close in Q4 2023.
Semco Maritime nets contract from TotalEnergies in Denmark
Semco Maritime was awarded a five-year contract for the provisioning of field support personnel for core crew and campaign positions from TotalEnergies Denmark. The contract began in July 2023 and covers offshore positions for production operators, permit coordinator assistants, HSE supervisors and laboratory technicians.
The two companies had also previously agreed to a construction service contract in November 2022.
Petrobras invests in SLB digital platform for E&P
SLB has been awarded a five-year contract by Petrobras for an enterprise-wide deployment of its Delfi digital platform. The contract scope covers Petrobras' digital transformation from exploration, development and production operations, including moving subsurface workflows to the cloud to accelerate decision making. The award represents one of Petrobras' largest investments to date in cloud-based technologies.
GD Energy Products adds new Canadian facility
GD Energy Products has expanded its Canadian reach with the opening of a sales, service and repair facility in Grande Prairie, Alberta. The new location will feature more than 11,000 sq ft of work space, including a dedicated pull-through wash bay and two pull-through service bays with a 10-ton crane.
EnerMech wins five-year contract with TotalEnergies
Integrated solutions specialist EnerMech received a five-year contract by TotalEnergies EP Congo for crane and lifting maintenance at a new facility to be built at Pointe-Noire. The work scope also includes specific maintenance of crane and lifting equipment, as well as onshore and offshore parts supply for three offshore sectors. The agreement further includes riser pulling systems, mooring and tensioning systems.
Chesapeake sells Eagle Ford acreage to SilverBow
Chesapeake Energy sold off its remaining Eagle Ford assets to SilverBow Resources for $700 million, bringing the total proceeds from its Eagle Ford exit to more than $3.5 billion. The sale incorporates approximately 42,000 net acres and approximately 540 wells in the condensate-rich portion of its Eagle Ford asset located in Dimmit and Webb counties. Chesapeake expects the transaction will close this year.
Shell to sell off interest in Indonesia's Masela Block
Shell has agreed to sell its 35% participating interest in Indonesia's Masela Production Sharing Contract, which includes the Abadi gas project, to Indonesia's PT Pertamina Hulu Energi and Petronas. The transaction is targeted to be completed in Q3 2023.
BiSN alloy qualified for P&A, abandonment for Sasol
BiSN worked with operator Sasol in Mozambique to qualify its Wel-lok tool for rigless P&A and intervention operations. The collaboration involved deploying the BiSN alloy via perforations in 95/8-in. casing to isolate formation activity from a gas-bearing silt layer and create a suitable regional seal within a 10-m thick shale interval. The project established the viability of the alloy to replace traditional cement.
FET announces partnership with UnderOcean in Brazil
Forum Energy Technologies (FET) appointed UnderOcean to represent its subsea operations in Brazil. The partnership will see UnderOcean provide business development and engineering support on behalf of FET's Subsea Technologies product line. UnderOcean will also deliver services for FET's remotely operated vehicles.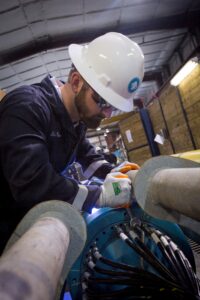 Expro to deploy shear and seal solution in deepwater GOM field
Expro has secured a contract with a major operator for the first deployment of its single shear and seal high-debris 15K ball valve assembly.
The multifunctional single shear and seal mechanism will form part of a full subsea deepwater completion/intervention system being designed by Expro for a deepwater subsea field at about 6,600 ft (2,000 m) in the Gulf of Mexico.
The mechanism is designed to answer the operator's requirement for a single-valve subsea solution rather than the conventional double-valve system, while offering the reassurance of risk reduction through an additional safety barrier.
Expro's high-debris single ball system, which delivers shear and post-shear seal on a multitude of sizes of coiled tubing, slickline and electrical cable, is a solution for both gas and liquid. It is NACE MR0175 compliant and qualified for sour hydrogen sulfide environments. The mechanism has been qualified to API 17G standard for the performance and design of subsea well intervention equipment.
AGR, Add Energy consolidate services under one brand
Add Energy and AGR are combining their services in drilling, wells and reservoirs, as well as energy transition technologies such as CCUS and geothermal, under the AGR brand. This move follows the recent acquisition of AGR and Add Energy by ABL Group. Add Energy's asset integrity management division will not be consolidated into AGR.
Separately, Add Energy was recently awarded funding from the Ocean Energy Safety Institute (OESI) to develop a method to standardize blowout event consequence analysis to support consistent risk measurement of well control events. OESI awards funding for research projects that can improve safety and environmental sustainability of oil and gas operations.
---
PRODUCTS
New packer offers economic option for isolation assurance
Halliburton's new Obex EcoLock is a compression-set packer that helps to prevent sustained casing pressure. The packer serves as a mechanical barrier to mitigate low-pressure gas or fluid migration and deliver isolation assurance. It can be a cost-effective alternative to inflatable and expandable packers for ensuring isolation assurance independent of losses or circulation pressures. The packer provides V6-rated isolation and can support multiple-stage cementing with optional integral cementing ports and an internal closing sleeve. It is currently available for 7-in. and 9 5/8-in casing designs.
Completions and workover system targets subsea CCS sites
Aquaterra Energy is offering a completions and workover system that specifically supports carbon capture and storage (CCS) developments. Deployable from jackups, semisubmersibles or light-weight intervention vessels, the system will allow operators to safely perform workover and intervention operations in low-temperature and high-pressure CCS subsea sites without concerns of gas leakage.
The patent-pending technology is designed to address issues that can occur when working with stored and pressurized CO2, – for example, sweet corrosion and ultra-low temperatures that standard low-alloy carbon steels cannot safely handle. The solution is based on Aquaterra's ISO13628-7 completion and workover riser system, which incorporates the company's proprietary AQC-CW connectors.
Mobile app introduced for real-time frac monitoring
Intelligent Wellhead Systems (IWS) launched the inVision Mobile App for completions operations, which provides real-time access to key wellsite operational data. The app allows users to inspect pad progress and current well activity. When running frac and wireline data through IWS safety and efficiency controls, users can analyze frac and wireline plots remotely.
New safety barrier designed for hazardous applications
Pepperl+Fuchs' KCD2-SCS-EX2 is a two-channel, dual-function analog input (AI)/analog output (AO) intrinsic safety barrier in a compact 12.5-mm housing. The two channels of the KCD2-SCS series interface modules can be configured individually for AI or AO control signals. They can also function as a power supply for SMART 2-wire transmitters.
For AI signals, the control side can be operated either as a current source or current sink via selectable DIP switches on the front panel.