VPD Registration – "Driving Efficiency Through Industry Collaboration on Automation, Data Collection"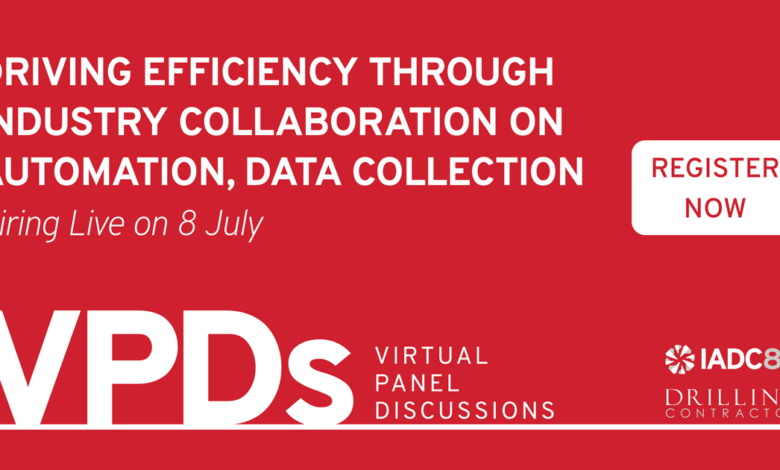 Register Now
Air Date: 8th July 2020
Start Time: 4 p.m. CET (9 a.m. Houston / 3 p.m. UK / 6 p.m. Dubai)
End Time: 5 p.m. CET (10 a.m. Houston / 4 p.m. UK / 7 p.m. Dubai)
Please note: Your webinar link and password will be emailed to you before the event.

Requires a Zoom account. Click here to get a free Zoom account.
In This Virtual Panel Discussion:
Amid dramatic falls in commodity prices, operator CAPEX and drilling rig activity levels, companies are more aware than ever that they cannot survive this downturn alone. Collaboration through industry groups like IADC are essential in order for companies to make the step changes needed in drilling automation and digitalization to not only survive but thrive in a low-price environment.
On July 8, IADC will bring together four panelists – representing drilling contractor, operator and OEM – to discuss industrywide initiatives executed under the umbrella of the IADC Advanced Rig Technology (ART) Committee. Join us in this live 60-minute Zoom session to engage your industry colleagues on questions such as:
How are the meaning and value of automation evolving in the new low-price environment?
How can the industry look beyond today's risks to incentivize safety, performance and innovation for tomorrow?
How do initiatives like the DDR Plus and Rig Sensor Stewardship Guidelines provide opportunities to adopt more performance-driven processes?
How can companies implement industry best practices while navigating changes in the traditional dayrate business model?
Welcome & Introduction:
Linda Hsieh, Editor/Publisher, Drilling Contractor Magazine
Session Moderator:
Session Speakers:
Air Date: 8th July 2020 at 4 p.m. CET (9 a.m. Houston / 3 p.m. UK / 6 p.m. Dubai)
Information for the Zoom Webinar will be e-mailed to registered attendees the day before the event.